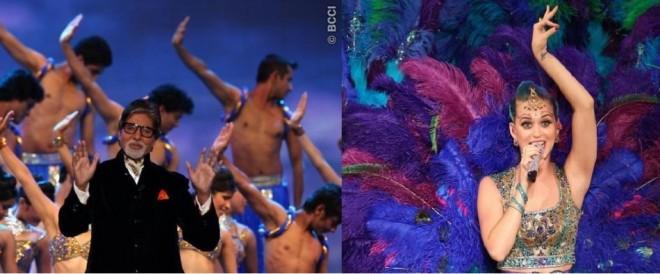 The Madras High Court on Wednesday served a legal notice to BCCI and to nearly a dozen celebrities, based on a "public interest" complaint filed by an advocate.
The petitioner K Jebakuma, a lawyer by profession, has filed a complaint against several Indian and international celebrities, accusing them of giving "indecent" performances during the inaugural ceremony of Indian Premier League.
The two-hour-long extravagant opening ceremony of IPL five was held at Chennai's YMCA ground on April.03, with performance line-ups by top B-town celebrities and international singer.
The complainant, Jebakuma's has reportedly claimed that the performances given by Bollywood actors Amitabh Bachchan, Salman Khan, Priyanka Chopra, Kareena Kapoor, American singer Katy Perry and a few others were "obscene, lascivious, and appealing to prurient interest."
The petitioner has also claimed that the show had distracted the students taking examination during that time and thus justifies for a legal action under various sections of the Indian Penal Code Act.
Moreover, IPL chairman Rajeev Shukla and Australian cricketer, IPL player Douglas Bolinger have also been served the notice.
A legal notice has been sent to Sony Set Mat TV official for telecasting the uncensored footages of the ceremony.
Even the Indian cricket board hasn't been spared, a notice has been sent to BCCI chief N Srinivasan along with the aforementioned people.
Meanwhile, the Chennai police are also being questioned for not taking immediate action on the complaint lodged by the petitioner.
However, according to the media reports, none of the star will have to be personally present in the court during the hearing on July 13.