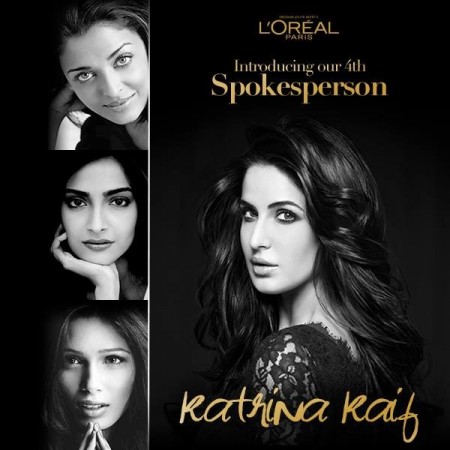 The brand ambassadors of L'Oreal Paris have walked the red carpet at the Cannes International Film Festival but Katrina Kaif, who recently joined the cosmetic brand, is unlikely to make her debut at the event this year.
Kaif, along with the company's other Indian ambassadors Aishwarya Rai Bachchan, Sonam Kapoor and Freida Pinto, was supposed to walk the red carpet, representing the cosmetic brand.
However, due to date issues the actress won't be able to attend the 67th Cannes International Film Festival that will kick off on 14 May. Kaif is one of the busiest actresses in B-town, with three big projects in her hand at the moment - "Bang Bang", "Jagga Jasoos" and "Phantom".
The "Dhoom 3" actress is currently shooting for "Bang Bang", which also stars Hrithik Roshan. The shoot of the film was being delayed either by Roshan's health problems or due to Kaif's. And since the delay, there has been too many date problems, which has now prevented Kaif from attending Cannes 2014.
"That is still to be seen if we can, but it seems a little unlikely because of 'Bang Bang' being a little delayed," Kaif said when she attended L'Oreal Paris Women Achievers awards on Thursday.
"There is a little too much of date problems between 'Bang Bang', 'Phantom' and Anurag Basu's film. So it may not be this year, but next year."
Back in January, Kaif was announced as the brand ambassador of the cosmetic group, which has been endorsed by Bachchan, Pinto and Kapoor. The other three actresses have been walking the Cannes Film Festival red carpet as the face of cosmetic brand since years.
Bachchan, Kapoor and Pinto are expected to sizzle at the red carpet this year as well.