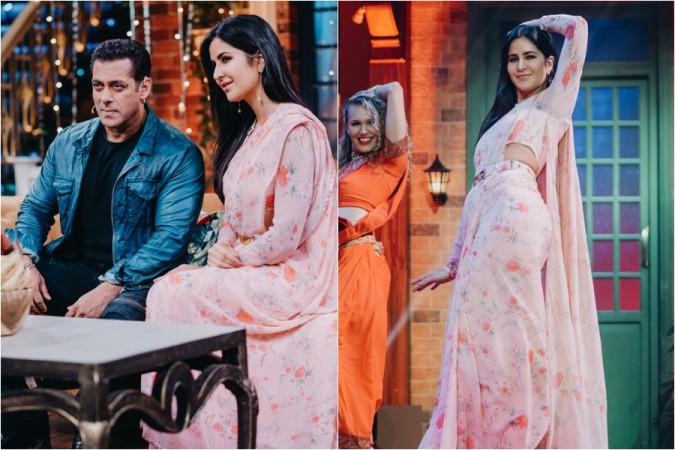 Katrina Kaif and Salman Khan are not only an iconic screen pair but also one of the most genuine friends Bollywood has seen. From having each-others back to standing behind each-other; their friendship has won the test of time. In an old interview with Nikhil Taneja, Katrina had spilt the beans on their friendship and equation.
On being asked whether she is responsible for Salman Khan having mellowed down, Katrina had said, "I don't think so. If he has mellowed down, that's wonderful. On occasion, the media can be aggressive and write something hurtful. But at the end of the day, there's no need to be upset. I'm glad that he's more comfortable with the media...because I think no one is against him."
Answering whether their off-screen chemistry is the reason behind onscreen one, Kaif had said that since they both have known each other for long, there has been an equation. She also revealed that Salman requires a lot of leeway, space and understanding and she does exactly that while working together.
After parting ways with Aishwarya Rai Bachchan, Salman Khan had brought on-board Sneha Ullal who resembled Aishwarya in his film Lucky. Once Katrina and Salman Khan headed their own way, he had brought on-board Zareen Khan for his film Veer. Zareen too, resembled Katrina a lot.
On being asked her reaction on the same, Katrina had said, "Isn't that flattering? I think that's so sweet. I even helped her with her make-up during her screen test. She's a lovely girl and I hope she does very well. Though I don't think she looks like me. But if Salman misses me and wants to work with girls who look like me, that's so sweet."
In an interview, talking about her exes, Katrina had said, "Whoever it is (no names taken), I don't see the point of holding on to anything unpleasant from the past. I would rather let bygones be bygones. I don't think anyone is out there to hurt me. People are trying to do the best for you. But, sometimes, in trying to do the best for you, you get hurt. Too bad. However, I would rather have a friend than an enemy."
Though Salman Khan and Katrina Kaif have now parted ways, the duo continues to share a warm equation and have proved themselves as a bankable jodi onscreen. We hope this friendship continues.