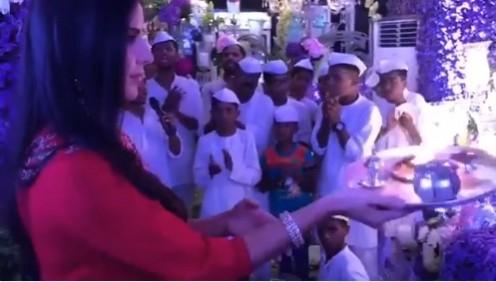 Katrina Kaif recently performed aarti to Lord Ganesha during the Ganesh Chaturthi puja at Salman Khan's residence. But she soon got trolled when many fans opined that she performed it in a wrong way.
Salman's brother-in-law Atul Agnihotri posted a video of the ritual on social media. The video shows Salman and others performing aarti during the festivity. But when Katrina's turn comes, she moved the tray in a wrong direction, according to the trolls. This did not go unnoticed by her followers, who wasted no time to point out the apparent mistake to her.
Series of comments started pouring "educating" Katrina. While the trolls stated that an aarti should always be performed clock-wise and not anti-clockwise, her supporters defended her saying that it can be done both ways.
However, Atul later deleted the video, apparently after noticing the negative comments coming in.
Katrina madam aarti Ulta kardiya aapne koi baat nahin Mann mein Shraddha ho bas kaafi Hain next time be careful

— Filmy Guru (@GuruFilmy) September 13, 2018
Omg Katrina did the aarti in a wrong way ? someone could atleast tell her ?

— Sharania Jhanvi✨ (@SharaniaJ) September 13, 2018
Wohi tohh she is completely doing Arti opposite serioulsy...??‍♀️

— Sima Shah ✨???Hina Fan?? (@simashah14) September 14, 2018
How foolish are people to troll on simple matter? What difference it makes if 'aarti' done in wrong way? Does God get angry? What matters is @katrinakaif_4 has done it with devotion. Grow up folks

— Sury Vedula (@Sundance128) September 15, 2018
Some of the trolls even criticised her for performing a Hindu ritual being a Muslim. A similar thing happened with Shah Rukh Khan as well after he posted a picture of his youngest son AbRam praying in front of Ganesha idol.
Nonetheless, such trolls often spread negativity, and the celebrities pay no attention to them, rightly so. Meanwhile, Katrina will soon be seen in the big film Thugs of Hindostan that also features Amitabh Bachchan, Aamir Khan and Fatima Sana Shaikh.
On the other side, Shah Rukh will appear on the big screen with Zero, which also features Katrina and Anushka Sharma.