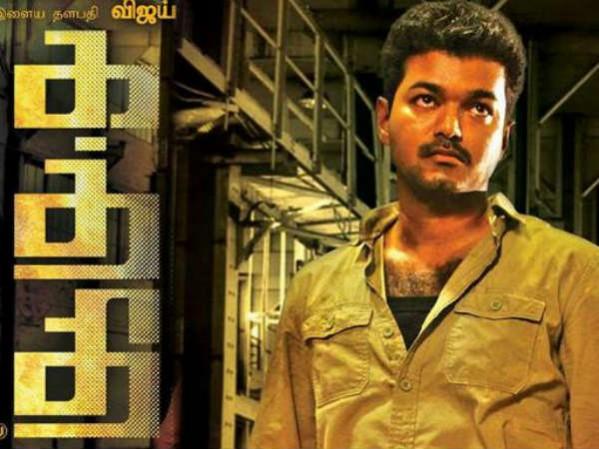 Every year thousands of farmers die due to one or the other reasons in the country, which claims that the farmers are the backbone of the nation. In every election manifestos, we read the big promises made by political class to win their trust. Yet, their lives have remained same. In "Kaththi" starring Vijay and Samantha, AR Murugadoss has tried to show a part of troubles faced by the farmers in the changing times. Find what the film has to offer in the movie review...
"Kaththi" highlights the ignorance shown by us towards the problems that the farmers' face and the challenges that they come across due the globalisation. The director has thrown light on one such issue by blending all the commercial elements in the Vijay starrer Tamil movie.
Story:
A group of farmers' fight against a corporate company, which wants to grab their lands by hook or crook. This forms the basic plot of the story. Vijay in dual roles (Kathiresan / Jeevananthan) fight for the helpless farmers against the establishment led by the role played by Neil Nitin Mukesh. Kathiresan is petty thief, who escapes from a Kolkata jail, and comes to a village. As he is a lookalike of Jeevananthan, a revolutionary social activist, people mistake him for the Good Samaritan.
On the other end, Jeevananthan is taken into the jail assuming that he was Kathiresan. As the story progresses, Kathiresan understands the real issue and stands for the people. How the helpless people fight against the corporate company? What are the tactics used by the powerful organisation to win the battle? You have to watch the film to get the answer.
AR Murugadoss has once again made a commercial entertainer that has social relevance. He takes dig at the establishment, media and urbanites, who have least concern about the farmers and their problems. He begins the story with a twist and has packed the story with punch dialogues, emotional scenes, occasional comedies, and romance.
"Kaththi" has ignorable drawbacks. The placement of songs and lack of comedy sequences are the some areas where the film lacks punch.
Vijay, in two roles, steals the show in "Kaththi". His strong screen presence adds a huge value to the project. His co-star Samantha is just his an arm candy but Neil Nitin Mukesh looks rich in stylish costumes. Rest other characters have played their parts well. And the director himself appears in one scene and it gets huge applause from the audience.
Anirudh Ravichander has shown his brilliance in songs and background score. George Williams does his job well and editor Sreekar Prasad's work is appreciable.
Verdict: "Kaththi" is a message-oriented and highly entertaining commercial movie.
Rating: 4