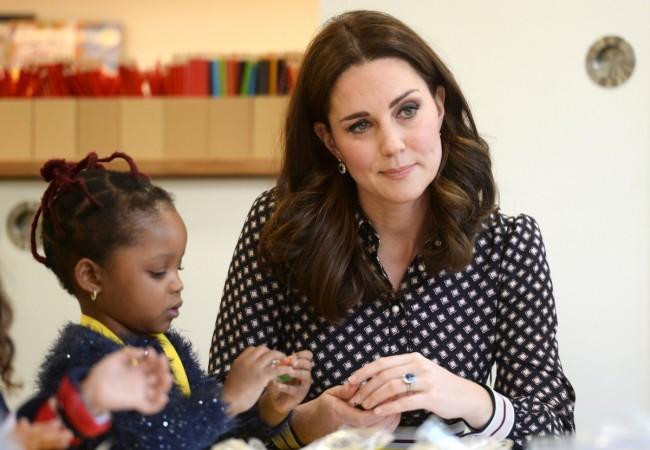 Renowned fashion designer Kate Spade was found dead in her New York City apartment on June 5. She reportedly hung herself. The designer was known for her chic and classy collection of accessories and clothes.
Many celebrities have been a fan of the designer's collection, including Kate Middleton. The Duchess of Cambridge has been spotted wearing jewellery and dresses designed by Spade.
Kate in November wore a diamond print dress when she was pregnant with her third child. The beautiful dress featured contrast striped hems and waistline. In October 2016, the mother of three was seen attending a World Mental Health Day event wearing a high-necked pink and purple floral dress with bow, a creation by Spade.
Apart from dresses, Kate turned to Spade's creation and wore a pair of bold tasselled earrings for a night at the theatre in 2017. She also wore a pair of red jewellery to match her red dress when she attended the opening of a musical in the West End.
Kate wasn't the only one who loved Spade's collection. Her sister, Pippa Middleton has also been spotted wearing Kate Spade's creations.
Other celebrities who have worn Kate's collection include Reese Witherspoon, Isla Fisher, Millie Bobby Brown, Ariel Winter, Emma Roberts, Taylor Swift and Anna Kendrick to name a few.
Kate died at 55 and is survived by husband Andy and daughter Frances Beatrix Spade. Before her suicide, the designer left a note for her daughter informing her that she shouldn't blame herself for Kate's death.
"This has nothing to do with you. Don't feel guilty. Ask your dad," the note reads, according to Page Six. The publication adds that Andy was at home when the suicide was discovered whereas Franches was attending school.
"At this point, there was a note left. The contents of that note, as well as the physical state of the apartment and the comments of the witness, lend to the credibility that it is an apparent suicide," NYPD Chief of Detectives Dermot Shea said at an unrelated press conference.