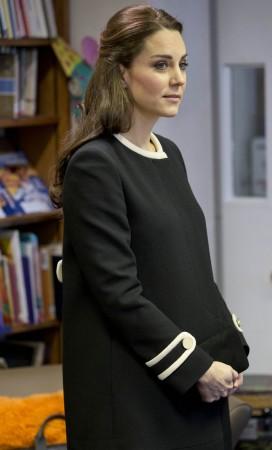 Duchess of Cambridge, Kate Middleton, is reportedly a "wardrobe hoarder." The 32-year-old waits for months before wearing a new purchase, according to a news report.
She reportedly does not want every other woman to look like her so she waits for a long time before making a style statement.
"She usually takes pieces 'on approval'. She does not inform the designers when – or if – she will be wearing their outfits and pays only once she has worn them," claims Claudia Joseph of Daily Mail. Even Moloh's owner Caroline Smiley feels that Middleton likes the idea of wearing a dress when it is no more available in the shops.
The debate about Prince George's mother dressing sense was triggered after she was seen sporting a double-breasted brown coat at the annual Christmas church ceremony. The fans were reportedly not happy to see her in the 'new' £685 as it was out of stock since last two years.
Middleton's spokesperson is yet to say anything on the issue, though Daily Mail has various pictures of the Duchess where she is seen wearing dresses years after they were launched.
For instance, she waited for five years before wearing an Alexander McQueen dress. It was worn by Sarah Jessica Parker in 2006 but Middleton wore it in 2011. Despite channelling dresses years after they are launched, Middleton is considered a fashion icon. She has been ranked no.1 in the list of most stylish British women in 2014. More than 2000 British people voted for the Duchess. The poll was commissioned by Feelunique.com.
Meanwhile, Middleton is currently pregnant with her second child. She will be giving birth to Prince George's sibling next year in March.