While the royal family is preparing for Prince Harry and Meghan Markle's wedding, the UK family is also gearing up to welcome Prince William and Kate Middleton's third child.
A few weeks ago, the Kensington Palace confirmed that the baby will arrive in spring next year. In the announcement, neither the date nor the sex of the baby was revealed. But now, a report claims that the couple are expecting not one but two baby girls.
Also Read: Prince Harry, Meghan Markle and Prince William, Kate Middleton top two separate sex tape wish lists
According to OK! Magazine, Kate is expecting twin girls. The report claims that the information was "leaked" by a palace insider.
"Duchess Kate and Prince William are expecting two girls," the magazine claims, alleging that "word has leaked from Kensington Palace" after Middleton "confessed the news to a close friend."
The palace insider claims, "She had an inkling it might be twins because she's gaining more weight than she did during her previous pregnancies. When she found out she's carrying twins, it all made sense."
The tabloid further claims that the Queen is "overjoyed" to know that the royal family will be welcoming twins after 700 years.
"The development came as a wonderful surprise to William, [and] all the more so when they learned that the babies are identical twin girls," the source shared. "The couple won't be releasing an official statement for some time," the grapevine added.
This isn't the first time that rumours about Kate pregnant with twins have surfaced. Soon after the news of her pregnancy was confirmed, Life & Style Magazine also claimed that the royal family will be welcoming twins.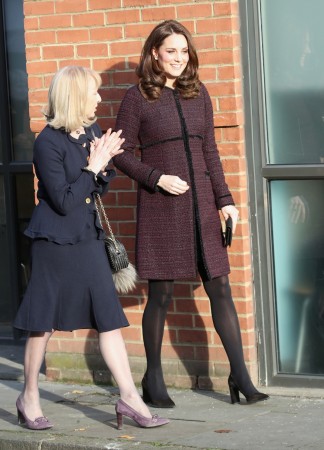 While this is an exciting rumour, Gossip Cop suggests that these could merely be speculations and nothing more. While royal fans will have to wait until next year to know, Kate has been busy getting her pregnancy fashion on peak.
The Duchess of Cambridge recently stepped out wearing a plum coloured $495 Seraphine coat with her baby bump protruding from the coat. She was seen wearing the same outfit in 2014 when she was pregnant with Princess Charlotte.