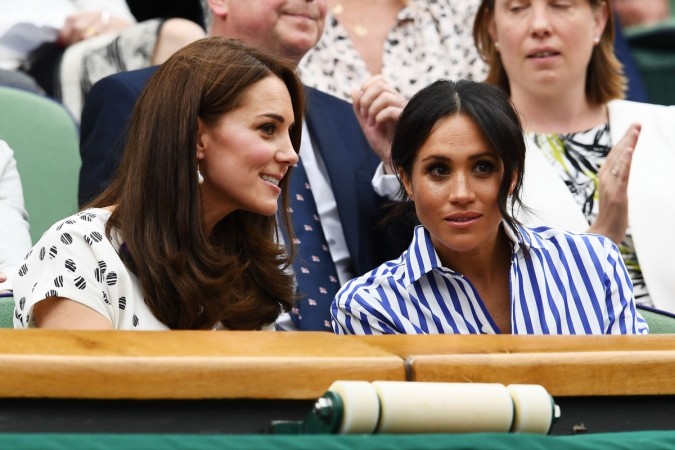 Kate Middleton admitted she is really excited about Meghan Markle's pregnancy. The Duchess of Cambridge expressed her joy for the upcoming arrival of Prince Harry and the Duchess of Sussex's bundle of joy.
During Kate and Prince William's visit to Leicester University, a fan asked if she was looking forward for the royal baby's arrival. She said: "Absolutely. It's such a special time to have little kiddies. And a cousin for George and Charlotte, as well, and Louis. It'll be really special."
Adding on, the 36-year-old royal revealed that the couple's three children are waiting for the upcoming holiday season. "They're getting excited for Christmas time! Because they've started all their Christmas songs and the Christmas trees are going up."
"And Louis' getting bigger, I can't believe he's like seven months," she added. "He's getting to be a big boy."
Kate and Prince William went to Leicester to pay tribute to those who tragically lost their lives in a helicopter crash, including the owner of the Leicester City football team, Vichai Srivaddhanaprabha. They also met Srivaddhanaprabha's wife, son and daughter at a dedicated tribute site set up in his memory near where the accident occurred.
In a statement, the Palace said: "Their Royal Highnesses knew the club's chairman, Vichai Srivaddhanaprabha, and wanted to visit the city to recognise the warmth and compassion that the people of Leicester and fans of Leicester City Football Club have shown in reaction to the accident."
Meanwhile, Prince Harry and Meghan had announced on October 15 that they were expecting a baby by spring 2019. Their child will be seventh-in-line to the throne and if they have a boy, he will inherit the title Earl of Dumbarton, and if they have a daughter, she would be called Lady Mountbatten-Windsor.