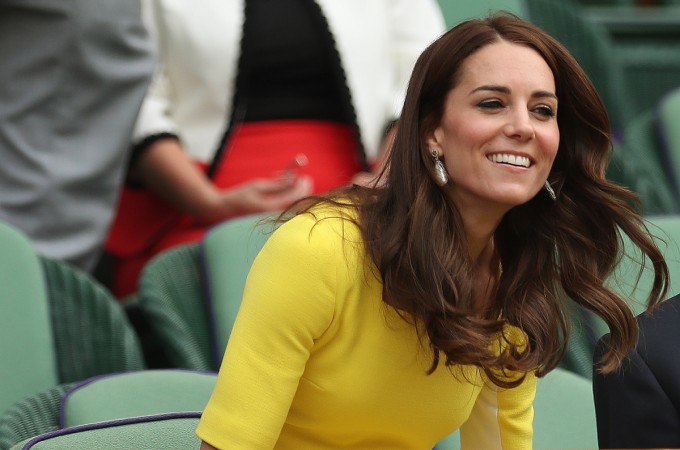 The Duke and Duchess of Cambridge resumed their royal duties after a summer holiday. Prince William and Kate Middleton wowed the crowds when they visited Youthscape, a charity organisation dedicated to helping young people, at Bute Mills in Luton, Bedfordshire.
This was Kate and William's first royal visit after summer holidays and the future King enthralled everyone, as he played FIFA16, but Kate was criticised for repeating a memorable dress from her 2014 Australia tour.
Kate wore a stunning white L.K.Bennett Lasa sundress emblazoned with blue flowers and paired it with nude heels. She looked beautiful in the dress, but several media outlets reported that the repeat of a memorable dress is an attempt to regain positive public opinion. Celeb Dirty Laundry reported that repeating the same outfit is a way to rehab the tarnished Royal image.
Kate Middleton's third pregnancy
Meanwhile, the latest visit to Youthscape has reportedly put Kate's third pregnancy rumours to rest. A lot has been said about Kate's third pregnancy, but her Instagram photos say otherwise.
Kate has previously suffered from a rare morning sickness -- hyperemesis gravidarum -- when she was pregnant with Princess Charlotte. Pregnant women suffering from this morning sickness experience severe and persistent nausea, which was one of the reasons why Kate was admitted to the hospital in 2014.
However, Kate's summer vacation, a visit to Youthscape and Canada's royal tour makes it unlikely that the Duchess is pregnant with a third child.
Canada tour
The Duke and Duchess will be going on a royal tour of Canada for a week from Sept. 24 to Oct. 1. The Kensington Palace tweeted: "In British Columbia, The Duke and Duchess of Cambridge will visit #Vancouver, #Victoria, #Bella Bella, #Haida Gwaii, and #Kelowna. "In Yukon, The Duke and Duchess of Cambridge will visit #Whitehorse and #Carcross."