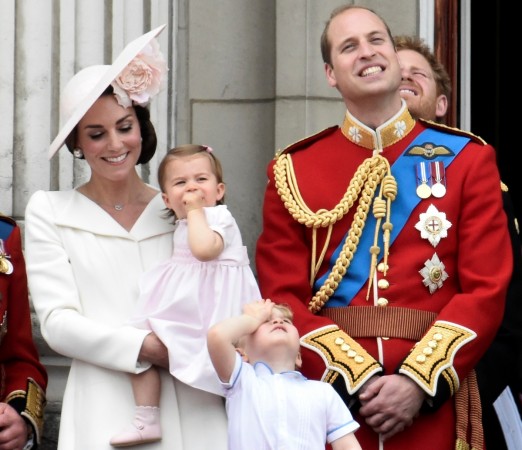 The Duke and Duchess of Cambridge will go on a royal tour of Canada, but it remains to be seen whether Princess Charlotte and Prince George will join their parents. Kensington Palace released the itinerary of Prince William and Kate Middleton's next royal tour.
According to Kensington Palace, Kate and William will visit British Columbia and Yukon during their one-week trip of Canada from Sept. 24 to Oct. 1. The Kensington Palace tweeted: "In British Columbia, The Duke and Duchess of Cambridge will visit #Vancouver, #Victoria, #Bella Bella, #Haida Gwaii, and #Kelowna.
"In Yukon The Duke and Duchess of Cambridge will visit #Whitehorse and #Carcross."
Earlier reports had said that Charlotte will join the royal family on her first royal tour. "There will be parts of the itinerary designed to include the children. The climate will be comfortable and a lot of outdoor activities will be part of the trip," a source told US Weekly. However, Kensington Palace has not officially announced whether George and Charlotte will accompany their parents on the official tour.
Meanwhile, the Duke and Duchess are excited about their next royal visit, as they hold very special memories from their previous tour. They had visited the country on their first official tour as a married couple in 2011.
"They are really looking forward to seeing other parts of this beautiful country and having the opportunity to meet many more Canadians along the way," a Kensington Palace spokesperson said.
September 24: Victoria, British Columbia
September 25: Vancouver, British Columbia
September 26: Bella Bella and Great Bear Rainforest, British Columbia
September 27: Kelowna, British Columbia and Whitehorse, Yukon
September 28: Whitehorse and Carcross, Yukon
September 29: Victoria, British Columbia
September 30: Haida Gwaii, British Columbia
October 1: Victoria, British Columbia