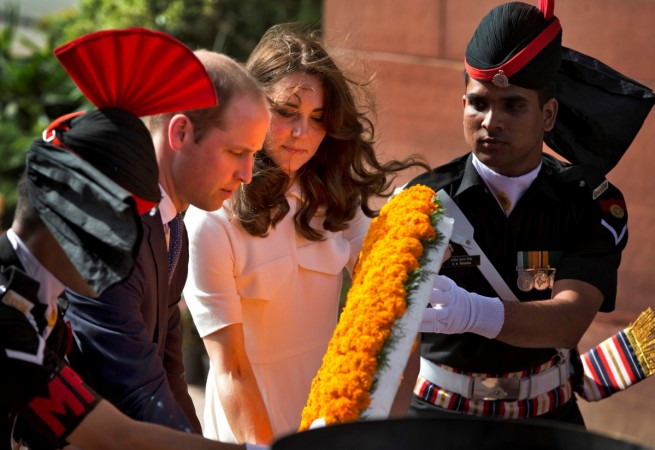 In their week-long official tour of India, Kate Middleton and Prince William visited several prominent places of traditional and cultural importance in the country, which included the Taj Mahal on the last day of the tour.
The royal couple stayed at the Taj Palace Hotel in Mumbai and enjoyed several activities that included a game of cricket, attending a Bollywood dinner reception along with several movie stars, meeting with the representatives of various charities and a visit to the Buddhist temple.
They arrived in Delhi on April 11, Monday, and visited India Gate, a memorial to the martyred soldiers who fought for the British Army during World War I. The couple laid a wreath of marigold on the memorial. A note on the wreath read "Never forgetting those who have paid the ultimate sacrifice for India" signed by Kate and William.
Once the ceremony was over, the Duke and Duchess visited Gandhi Smriti, a museum where Mahatma Gandhi lived in his final years. They were given a private tour of the museum where they saw Gandhi's bedroom and his other belongings.
Afterwards, a group of children performed a choir in front of them. Later, the Prince tried his hand with some Indian cooking. The pair afterwards attended an early birthday party held in honour of the Queen, who will turn 90 on April 21. They cut the cake with a large sword.
In the subsequent days, Kate and William met several NGO representatives before making a trip to Kaziranga National Park in Assam. They were greeted with a local fireside festival and enjoyed a safari ride.
READ MORE: Kate Middleton, Prince William India visit: Royal couple spends Day-2 with young entrepreneurs, learns Braille [PHOTOS]
The duo then went on a trip to Bhutan where King of Bhutan, Jigme Khesar Namgyel Wangchuck, and his wife, Jetsun Pema, greeted them.
According to Travel and Leisure, during the tour, Kate adopted several looks that included a red Alexander McQueen dress, a patterned midi dress by Mumbai designer Anita Dongre, a cobalt blue Jenny Packham gown, a cream knee-length dress by Emilia Wickstead, a black and white Temperley London gown, a glamorous red navy boarder print lace up maxi, a green dress by Temperley London, a printed Anna Sui dress, a dotted RM Williams button-up, brown biker pants by Zara, and a Topshop embroidered print midi dress.
READ MORE: Kate Middleton, Prince William India visit Day 3: Royal couple spend time with street children before lunching with PM Modi
On the last day of their India tour, the couple visited Taj Mahal. Kate and William chose the same spot at the monument to pose for a picture where William's mother, Princess Diana, was photographed in 1992.