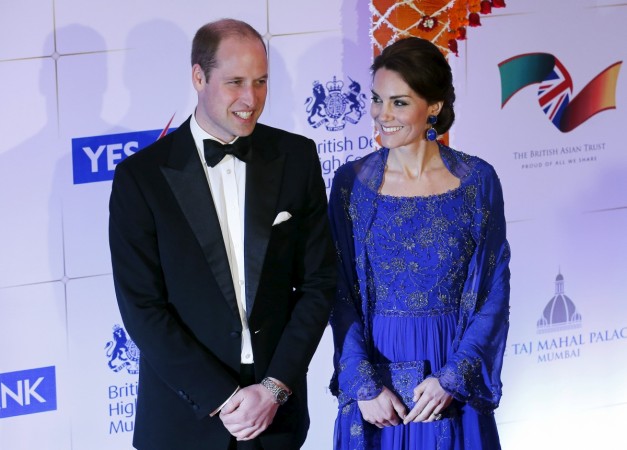 Kate Middleton and Prince William's India tour has so far been a whirlwind affair. After spending a day in Mumbai, the royal couple flew to New Delhi Monday, April 11, and attended a tea party in the honour of the Queen's 90th birthday, which is a week later on April 21.
The Duchess and Duke of Cambridge's stay in India befitted a resplendent soirée in the sprawling gardens of the British High Commissioner's official residence. The royal couple greeted a gathering of 2,000 guests, which included members of the academia and armed forces personnel, among others.
Prince William's wife entered the party to the sounds of Bond tunes in a monochrome gown designed by British fashion designer Alice Temperley. Invitees to the tea party told the Daily Mail that the Duchess was gracious, kind and even more beautiful in person than in pictures.
When BulBul Dhar-James, professor at Jamia Milia Islamia University, asked Middleton about her fabulous figure even after giving birth to two children, she simply replied that she stays fit because she runs behind her kids.
Another invitee, Deepa Thomas Sutcliff had a brief conversation about the late Princess Diana and Middleton said that she regrets not having met her husband's mother.
However, Prince William, who cut a cake with a sword in honour of the Queen's birthday, told the gathering, "I am so glad that my children are having the chance to get to know The Queen. George and Charlotte, too, will discover how lucky they are to have such a wonderful great-grandmother – a role model for the rest of their lives," according to Daily Mail.
The Duke of Cambridge joked that he is in India as the Queen's representative, and although she is his grandmother, she is in fact, his boss.
The father of Prince George and Princess Charlotte read out a message from the Queen, which read, "Prince Philip and I send our warmest good wishes to all you attending this special Garden Party."
Prince William and Kate Middleton earlier paid tribute to India's fallen soldiers at the National War Memorial in New Delhi. They also visited the India Gate and a museum at the Birla House, where Mahatma Gandhi spent his last few years.
This is the royal couple's first visit to India. They will be travelling to Bhutan later, where they will end their week-long royal tour.