Kate Middleton is on a five-day tour with Prince William and children in Poland. Dressing in a formal white skirt-dress, the Duchess of Cambridge received an unusual gift that ran giggles amongst people standing in attendance.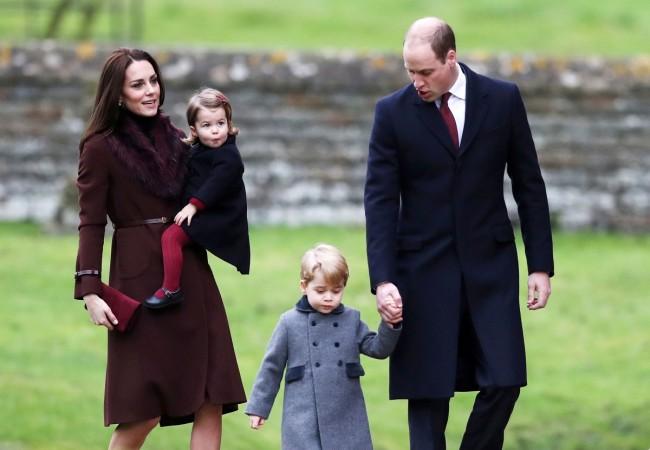 Kate was gifted a stuffed bear that mimicked the sound babies hear when they are in the womb. It was designed by a tech start-up in Warsaw. The gift resulted in some smiles. As soon as the gift was presented to the mother-of-two, she turned towards Prince William and joked: "We will just have to have more babies," ABC News reports.
Also Read: Kate Middleton topless photos' trial: 7 things to know about the royal scandal
While this was just a "joke", Kate added fuel to the existing speculations that she wants to add another member to the royal family. However, the faux interest also turned attention to a Celeb Dirty Laundry report that claimed that all is not good in the royal paradise. Does Kate want another baby to mend the relationship with William?
The suspicions that all might not be good in the royal paradise began when Kate was clicked sporting a sore face at a recent royal meeting in the Buckingham Palace. The website claimed that the royal couple is undergoing some "marriage problems" and it was apparent at the gathering that took place earlier this month.
A picture of Kate, which was circulated to highlight Princess Diana's Knot Tiara and Duchess' most revealing dress, watched Kate in her unusual self. The gossip website speculated that Kate was "miserable" and "couldn't hide the fact that she was upset over something."
The pointers mentioned in the story also highlighted that the couple did not pose for a single picture together and the royal couple were seated at separate tables. While the pointers pointed out the obvious, the story had no sources confirming that Kate did feel left out and "ignored his wife throughout the night."
So, Gossip Cop reached out to their sources in the royal family and debunked the story that the couple are happy and that they have no marriage problems.
But what do you think? Does Kate want another baby to get some attention from Prince William or are these baseless rumours? Let us know in the comments section below.