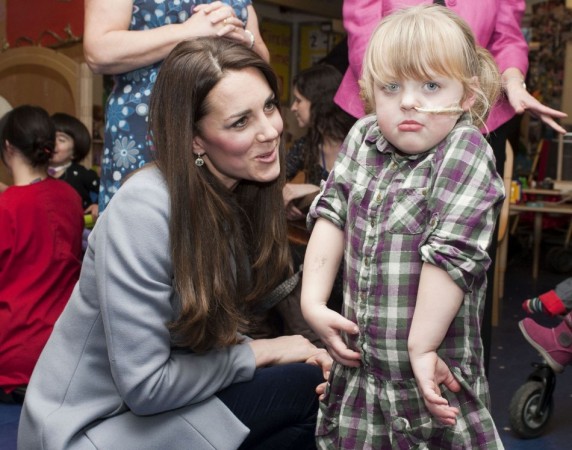 Kate Middleton second pregnancy rumours has surfaced again after a tabloid claims that the Duchess of Cambridge is "officially" expecting royal baby No.2.
The Duke and Duchess of Cambridge have denied the reports of second baby, but reports keep surfacing online.
A US based magazine, Life & Style magazine, in their latest issue (19 May) has reported that the couple is expecting second baby, nine months after the birth of Prince George.
The magazine also claims that Middleton has cleared all her plans for health reasons, adding fuel to pregnancy news.
Apparently, Middleton informed Prince William about the second baby news during the couple's three-week tour in New Zealand and Australia last month, according to the magazine.
"Prince William presented Kate Middleton with a dazzling $5,650 Cartier watch, but the top-of-the-line timepiece couldn't match the Duchess of Cambridge's gift for her husband," the magazine reported, according to International Business Times.
The report also claims that Prince William and Middleton are happy with the news of second baby. The royal couple is also not worried about the age gap between the two babies.
"[Kate's] mother, Carole, was pregnant with her sister, Pippa, just 11 months after she gave birth to Kate. William and Kate also really want children close in age," an insider told the magazine.
Since the time the rumours about Middleton's pregnancy started doing the rounds on Internet, it has been reported that the royal couple wants a sister for George.
"Although they've both always said they don't care what sex their children are, I know Kate would love to have a girl," a source said.
The rumours started when Star Magazine initially reported that Middleton was three months pregnant in January.
"Kate, who turns 32 on 9 January, and William, 31, indeed are now expecting their second child," the magazine reported in their January issue. [Read the report here]
But in March, William cleared the air about the baby no. 2 royal couple is not expecting a second child. [Read the report here]
Meanwhile, even though the magazine reported quoting sources close to family, an official announcement from the Palace or by the couple is yet to be made.
(Ed: AJ)