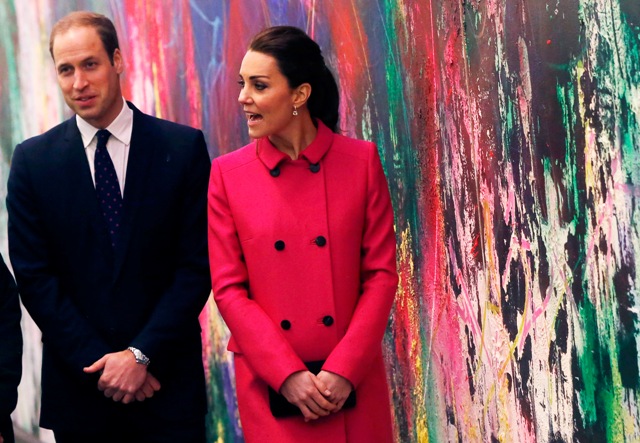 Duchess of Cambridge, Kate Middleton is known for her riveting maternity fashion. The 32-year-old, who is currently pregnant with her second child, has been voted the most influential trendsetter of 2014; however, the lady does not mind repeating her looks. She was recently seen dressed in a same red dress, which she wore last year too.
Middleton recycled her look for Queen Elizabeth's annual Christmas luncheon on Wednesday, 17 December. She accesorised her look with a pair of chandelier earrings and a dainty piece of necklace. She wore minimal make-up and did her hair in a half-up do.
In 2013, Middleton had worn the same attire, but kept the look very casual. She wore her hair in loose waves and did away with the jewellery. She wore the dress for same event last year, as reported by US Weekly.
The annual Christmas lunch takes place every year and is for all the members of the royal family.
The event takes place at Buckingham Palace where everyone gets in the spirit of holidays before the Queen heads to Sandringham estate to celebrate the festivities with her family.
Meanwhile, Middleton and Prince William recently took Prince George for a visit to Santa's Magical Journey. They arrived at the winter festival unannounced and left the onlookers surprised. The royal toddler reportedly, had a great time at the Christmas festival. He met Santa, animated reindeer, penguins, polar bears and elves and got a wooden train as a gift from Santa. The tour lasted for an hour.
"It was a private visit and they were not given any special treatment. We only knew shortly beforehand that they were coming. They went around the winding path at our exhibition centre and would have seen animated creatures like polar bears, penguins and reindeers as well as elves and snowmen," Geraldine Rye, the general manager at Thursford said about the royal couple's visit, according to Mirror.