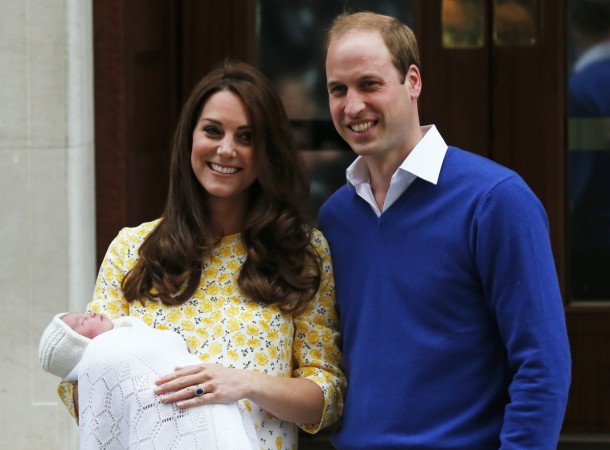 Kate Middleton will be very busy in the coming months. The Duchess of Cambridge is not just excited about Princess Charlotte's christening next month, but also about sister Pippa's engagement to beau Nico Jackson.
Kensington Palace announced on 5 June that the month-old daughter of the Duke and Duchess of Cambridge will be christened at St Mary Magdalene Church at the Queen's Sandringham estate in Norfolk on 5 July.
Archbishop of Canterbury Justin Welby, who christened Prince George, is expected to carry out this service as well.
Now, the big question is who will be the newborn's godparents? In 2013, the royal couple went against tradition and chose seven of their best friends, rather than foreign royals and aristocrats, to look out for their son George.
This time around, according to E, there are a few names that Kate and William have decided on.
The website has speculated Princess Beatrice and Princess Eugenie to take up the lead spots, followed by the eldest grandchild of Queen Elizabeth II, Peter Phillips.
"Prince Harry, Pippa Middleton and James Middleton will also be given the high title. There are a few other names that stick out on the betting list, including Elton John, Victoria and David Beckham, and even Hugh Grant," the website reports.
Meanwhile, Pippa Middleton is in the news for taking the next step in her relationship with Nico Jackson.
According to Life & Style, Duchess of Cambridge's sister Pippa and her millionaire stockbroker boyfriend, Nick Jackson, are expected to get engaged soon.
"Kate is so happy for Pippa and she loves Nico," a source said. "They all get along so well!"
A source also revealed that the 32-year-old Duchess will be choosing the engagement ring.
"It will definitely be a stunner!" the insider added.
Pippa Middleton's relationship first came to light in 2013 when she was spotted holding hands with Jackson. Despite rumours of them splitting up earlier this year, the two were spotted spending time together in Fulham last month.
With reports of engagement doing the rounds now, it seems like the couple has overcome their issues.
We are guessing that Kate Middleton will now be literally on her toes with daughter Princess Charlotte's christening and sister Pippa Middleton's engagement.