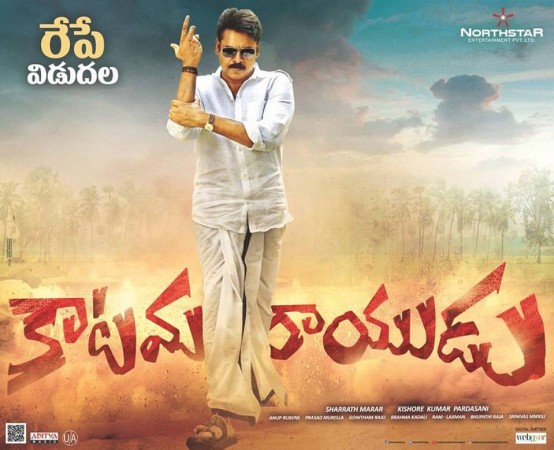 Katamarayudu has made an average collection at the worldwide box office in 10 days and emerged as another big flop in the career of power star Pawan Kalyan after Sardaar Gabbar Singh.
Released on March 24, the Pawan Kalyan-starrer opened to good response, but the mixed word of mouth took a toll on its collection on the following days. Katamarayudu collected Rs 86 crore gross at the worldwide box office in its first week and it earned Rs 55.25 crore for its global distributors in 7 days.
The Kishore Kumar Pardasani-directed action drama was withdrawn from several cinema halls across the globe due to its average performance in the second week. In addition, the movie clashed with the much-hyped sports drama, Guru, starring Venkatesh and Ritika Singh. The film hit a new low in the second weekend with its collection dropping by around 90 percent when compared to its opening weekend.
As per reports, Katamarayudu has collected Rs 6.40 crore gross at the worldwide box office in the second weekend, taking its 10-day total collection to Rs 92.40 crore gross in the global market. The movie is struggling to cross Rs 100 crore mark and considering its current pace of collection, it may not reach the mark.
Made on a budget of Rs 30 crore, Katamarayudu fetched Rs 84.50 crore from the sale of its theatrical rights. The movie has earned Rs 58.80 crore for its global distributors in 10 days and it is yet to recover Rs 25.70 crore for them. As per the current trends, the film would earn another Rs 5+ crore for the distributors in its lifetime, but it is likely to incur huge losses of over Rs 20 crore for them.
Here are the prices of the rights and earnings of Katamarayudu in different regions across the globe. They are estimated numbers and may not match with the figures released by the makers. All the numbers are in Rs crore.
| | | | |
| --- | --- | --- | --- |
| Area | Rights Price | Earnings | Recovery in % |
| Nizam | 20 | 14.20 | 71 |
| Ceded | 11.70 | 7.75 | 66.23 |
| Vizag | 8.30 | 6.01 | 72.40 |
| Guntur | 6.10 | 4.72 | 77.37 |
| G East | 5.85 | 5.14 | 87.86 |
| G West | 4.70 | 4.09 | 87.02 |
| Krishna | 4.30 | 3.47 | 80.69 |
| Nellore | 2.75 | 1.99 | 72.36 |
| Rest of India | 9.30 | 6.60 | 70.96 |
| Overseas | 11.50 | 4.88 | 42.43 |
| Total | 84.50 | 58.80 | 69.58 |