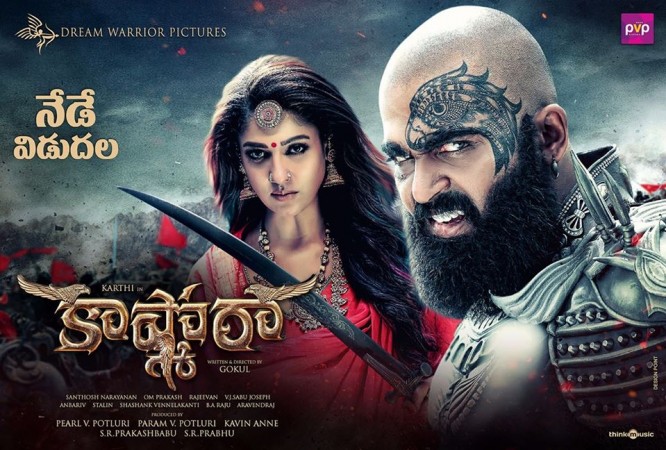 The Telugu version of Karthi's Kashmora (Kaashmora) has made good collection at the Andhra Pradesh and Telangana (AP/T) box office, but failed to beat the opening weekend record of Oopiri.
Karthi is one of the most popular young Tamil actors in the Telugu-speaking states and the promos of his latest outing Kashmora had garnered lot of attention for the film in the states. The distributors of the film released the movie in over 600 screens across both the states in bid to cash in on Karthi's popularity and hype surrounding the film. The volume of its release was much bigger than its screen count in Tamil Nadu.
Trade analyst predicted that Kashmora would beat the records of Oopiri after seeing a huge hype surrounding it. With no releases from Tollywood, the dubbed version of Karthi's movie opened to good response and collected Rs 4.50 crore gross at the AP/T box office on the first day. But the film failed to beat the record of Oopiri, which grossed Rs 6.50 crore in these states on its opening day.
Having garnered positive response, the Gokul-directed supernatural thriller maintained rock steady at the ticket counters in both the states on Saturday and Sunday. Kashmora is estimated to have collected approximately Rs 9 crore gross at the AP/T box office in the first weekend. The movie has earned Rs 4.90 crore for its distributors in the states in three days.
The AP/T distributors are all happy with the collection of Kashmora. Abhishek Nama of Abhishek Pictures tweeted: "#Kaashmora #Nizamweekend shares:1st Day Share 55,39,578/- 2nd Day Share 38,54,042/- 3rd Day Share 42,79,676/- Total 1,36,73,296/-@PVPCinema."
However, Kashmora has failed to beat the opening weekend collection of Oopiri, which raked in Rs 11.50 crore (Rs 7.83 crore share for its distributors) in three days. Here are the estimated distributors' shares of various areas in the states. The numbers may vary from the actual figures release by the makers.
| | | |
| --- | --- | --- |
| Area | Kashmora | Oopiri |
| Nizam | Rs 1.36 crore | Rs 2.84 crore |
| Ceeded | Rs 0.90 crore | Rs 1.39 crore |
| Vizag | Rs 0.62 crore | Rs 0.80 crore |
| G. East | Rs 0.44 crore | Rs 0.64 crore |
| West | Rs 0.26 crore | Rs 0.47 crore |
| Krishna | Rs 0.36 crore | Rs 0.67 crore |
| Guntur | Rs 0.73 crore | Rs 0.75 crore |
| Nellore | Rs 0.23 crore | Rs 0.27 crore |
| APT Total | Rs 4.90 crore | Rs 7.83 crore |