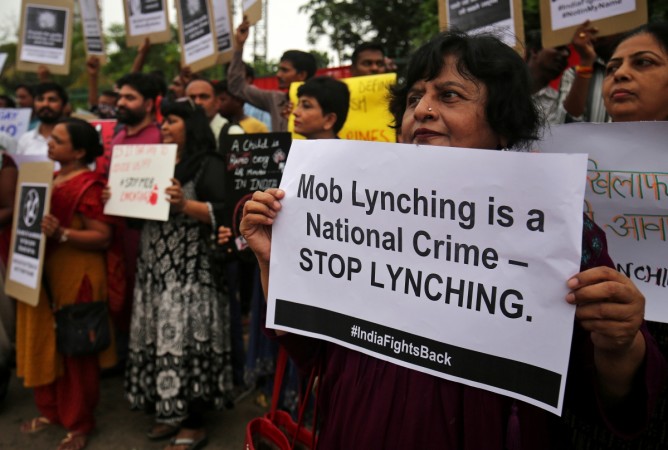 In a shocking incident, a Kashmiri youth, whose identity is yet to be ascertained, can be seen getting beaten up by locals in Fatehpur town of Sikar district in Rajasthan.
The youth who is believed to be a student was allegedly beaten up by the locals, called a "stone pelter" and was asked to chant 'Vande Mataram' and 'Jai Shree Ram' slogans. The bearded youth looks visibly terrified in the video as a group of men can be seen holding the collar of the young boy's shirt while men and women around remain mute spectators.
He is also asked to tell his' fellow stone pelter Kashmiris' to desist from pelting rocks or else they will be taught a similar lesson. The people who gathered can be heard laughing in the video.
The mob also tells the Kashmiri youth to say that he has been beaten up by a section of people in Rajasthan to teach a lesson to the stone pelters who clash with Army.
"Tell them to stop pelting stones or else we will beat them in the same way like we did with you," the men said.
The video was uploaded by a Twitter user, Asma Parveen who has reported the incident to Rajasthan Police.
See the video here:
यह एक काश्मीरी युवक के फतेहपुर शेखावटी , सीकर , राजस्थान में शिक्षा के लिए जाने का साहस करने का परिणाम है।

वीडियो देखिए सोचिएगा कि इस देश से और देशवासियों से काश्मीरी क्युँ नफरत करते हैं।

काश्मीर को पुर्ण रूप से हासिल करना है तो कशमीरियो को भी अपनाना होगा @PoliceRajasthan pic.twitter.com/y9ODar6rz7

— Asma Parveen (@Asmaparveen77) December 17, 2018
The communal incidents in Rajasthan have been on a rise in the recent past, which proved to be detrimental to the former BJP state government in the state.
In July, a group of men lynched a 28-year-old Muslim man Akbar Khan in Alwar district for allegedly smuggling cows. In another chilling incident, a Hindu man Shambu Lal posted online clips of him murdering a Muslim man and claiming that he prevented an incident of "Love Jihad."
Senior Congress leaders including Ashok Gehlot and Sachin Pilot had accused the then Chief Minister Vasundhara Raje of failing to curb mob lynching incidents and covering up such crimes. The increase in mob attack and lynching cases is also believed to be one of the reasons behind the defeat of BJP in the state.