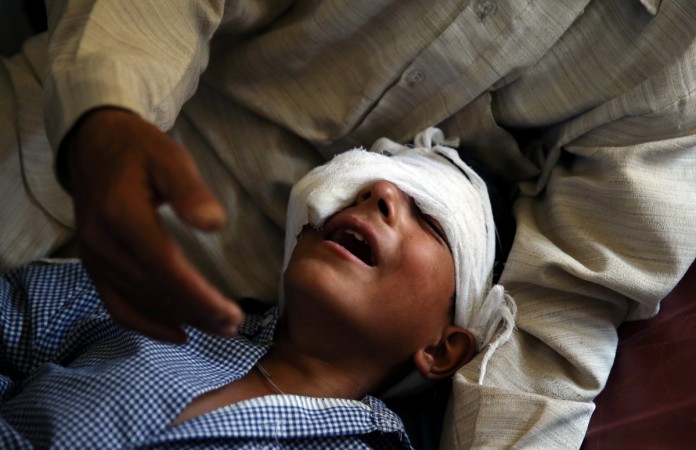 The Army has clarified through an affidavit filed in Jammu and Kashmir High Court that they have used PAVA shells (Pelargonic Acid Vanillylamide), also known as pepper balls or spray, during the ongoing unrest in Kashmir Valley.
According to the affidavit, CRPF personnel deployed across Kashmir fired 800 shells of hot PAVA projectiles between July 8 and Aug. 11. Atul Karwal, Inspector General CRPF (Srinagar), had submitted the affidavit on Aug. 17 in response to a PIL filed by J&K High Court Bar Association, seeking a ban on the use of pellets in the Valley.
Pepper balls were zeroed in on as a possible alternative to pellet guns by an expert committee constituted by Home Minister Rajnath Singh. The committee, comprising of a Joint Secretary of the Home Ministry, top officials of CRPF and BSF, a J&K police officer, an IIT-Delhi professor and two others, was formed on July 25 in light of the criticism after several reports that the Army resorting to the use of pellet guns has blinded scores of people, including children.
Weeks after the unrest arose out of the killing of Hizb-ul-Mujahideen terrorist Burhan Wani on July 8. about 70 people have been killed so far.
Data regarding the use of equipment by the paramilitary forces has revealed the use of 8,650 tear smoke shells, 158 stun shells, 277 stun grenades, 1715 rubber bullets, 840 tear smoke grenades, 2,671 plastic pellets, 3,765 pump action guns, 201 Multi Baton cartridge, 502 oleo-resin grenades, 5 Dye Marker grenades, 61 Stinger grenades, 14 electric shells and 5 blank cartridge.
Along with pepper balls, the expert committee that is yet to file its report to the Home Ministry has recommended CONDOR rubber bullets, teargas shells with enhanced potency and marker and stun grenades as an alternative to pellet guns. Home Minister Rajnath Singh said on Thursday that the committee will submit its report within a few days.