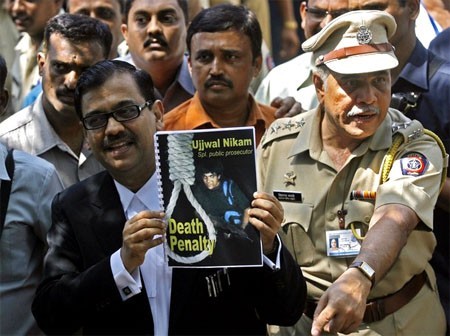 The public prosecutor, Ujjwal Nikam, who represented the state in the 26/11 Mumbai terror attack case, disclosed on Friday that neither the terrorist, Ajmal Kasab, asked for mutton biryani nor was it served to him.
Nikam told reporters that the myth was created to divert the people's attention from the emotional picture of Kasab that was being portrayed and highly hyped by media after a court trial.
"Kasab never demanded Biryani and was never served by the government. I concocted it just to break an emotional atmosphere which was taking shape in favour of Kasab during the trial of the case," PTI quoted him as saying.
Explaining the reason for cooking up this lie, Nikam referred to a day during the 26/11 Mumbai attack accused's hearings. He said that Kasab knew that the media is observing his body language and thus he portrayed his emotional side, but he was just pretending.
And later what happened was what they feared about; media hyped the 'emotional' Kasab, which the prosecution never wanted and hence Nikam created the myth.
"Media was minutely observing his body language and he was well aware of it. One day, in the court room, he bowed his head and wiped his eyes," Nikam said.
"Moments later, electronic media broke the news -- tears in Kasab's eyes. It was Raksha Bandhan that day, and panel discussions were started in the media on it. Some guessed Kasab got emotional in memory of his sister and some even went on to question whether he was a terrorist or not," he added.
"This kind of emotional wave and atmosphere had to be stopped. So, after that, I gave a statement to the media saying Kasab has demanded Mutton Biryani in the jail," Nikam admitted this in front of the media and audience present at the international conference on counter-terrorism going on in Jaipur.