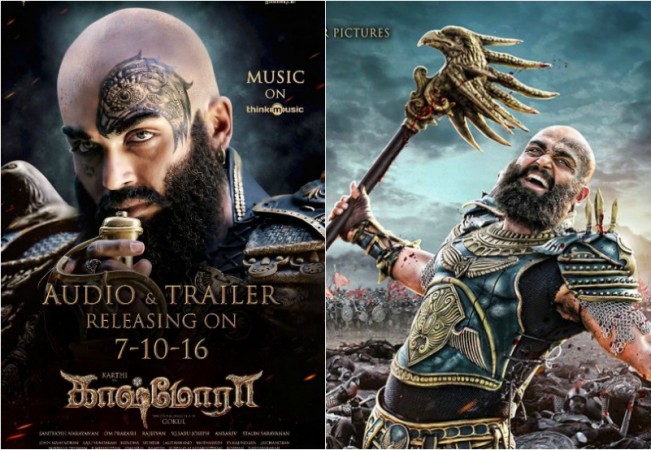 The producers of director Gokul's Tamil movie Kaashmora, starring Karthi, Nayantara, Sri Divya and Manisha Yadav, have revealed the date of the release of the movie.
Kaashmora is produced by SR Prakashbabu and SR Prabhu under the banner Dream Warrior Pictures. The makers have announced the date of its music launch on the official Twitter handle of their production house. They tweeted: "@Karthi_Offl 's #Kaashmora audio is associated with @thinkmusicindia @Music_Santhosh @ThenandalFilms."
Santhosh Narayanan, who hogged the limelight with Rajinikanth's Kabali, has composed the tunes for the soundtracks of Kaashmora. Think Music India has acquired the music rights of the film. SR Prabhu confirmed that its songs will be released online by Think Music. The producer tweeted: "#Kaashmora music on @thinkmusicindia @DreamWarriorpic @Karthi_Offl @Music_Santhosh."
Kaashmora is a supernatural historical thriller film written by Gokul. The shooting of the movie began in the first week of May 2015 and the film has been in production for over a year and half. The flick reportedly comprises 80 minutes of VFX scenes and the makers have used the 3D Face scan technology, which is being used for the first time in a south Indian movie.
Omni directional cameras are used for the shooting of Kaashmora. The art direction team has erected 17 sets in and around Chennai to make simultaneous filming process possible, in turn saving time. Its promos have created lot of curiosity among the film goers, who are eagerly waiting to watch the movie, which is scheduled for a worldwide release on October 28.