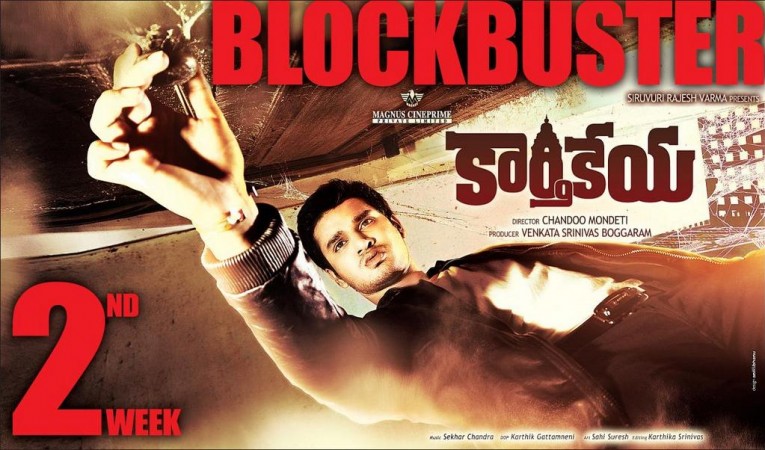 The screen count of any Telugu film is reduced in the second week of its release usually, forcing its collections to go down considerably, but surprisingly Nikhil Siddhartha and Swathi starrer "Karthikeya" is an exception. The film's number of screens has increased in its second week and so has its collections.
"Karthikeya", which released in 350 halls across the globe on 24 October, debuted with a fantastic response on Friday. Strong word of mouth took its business upwards over the weekend as well as the weekdays. The film collected approximately ₹10 crore at the worldwide box office in its first week. Besides recovering the production cost, it got a decent amount of profit share in just seven days.
Considering the moviegoers' craze for the film, the producers of "Karthikeya" added around 150 screens for the film on its second Friday. Despite facing some tough competition from new release "Current Theega", the Nikhil Siddhartha film maintained its steady position at the ticket counters across the globe on its eighth day. It continued to dominate the multiplexes in urban areas.
"Current Theega" got only mixed responses from the viewers, which took a toll on its collection on the second day. "Karthikeya", which cashed in on this, became the first choice for moviegoers on its second Saturday. When compared to Friday, the movie did well on its ninth day. On these days, the film raked approximately ₹5 crore at the box office, taking its nine-day global total to ₹15 crore.
Nikhil Siddhartha, who was excited with the superb response for "Karthikeya", tweeted: "Nearly 100 THEATRES in NIZAM itself for KARTHIKEYA in 2nd Week... 1st week was 65 to 70 screens.. This is CRAZYYY!!!" The actor added: "Reports coming in... distributors Suggesting Karthikeya will have a biggg 2nd week at the box office... Gods Grace.."
The actor is now touring various places in Andhra Pradesh and Telangana, visiting theatres to thank the moviegoers for their love and support. He has already visited areas such as Mahboobnagar, Chittor, Tirupati, Ongole, Nellore Kakinada, Vijaywada, Eluru, Anakapalle and Gajuwaka.
Met overflowing crowds at Mahboobnagar for the morning show... Wahhhh I love meeting audience... Next going for kurnool matinee :-)
vammooo.. ANANTAPUR nd MADANPALLE lo aa crowds and welcome ki _/_ salute... Intha love aaa... Thanks guys... 2moro Chittor-tirupati-ongole
Amazing response from TURUPATI 4 karthikeya ... Thank the crowds for coming and filling the theatres here... Overwhelmed Love u tirupati :)
Met soo many young excited doctors at the ELURU vijaylaxmi theatre... Next on to RAJHAMUNDRY... ASHOKA theatre nd Surya Palace.. Come say hi
What a fantastic day. Just wrapped up with visit to 2 theatres in kakinada nd both of them packed to capacity crowds. 2nd week going superb
The Karthikeya juggernaut rolls on... Visiting Anakapalle.. Gajuwaka now.. Mssgs nd calls pouring in still.. Can't thank u all enough...
₹