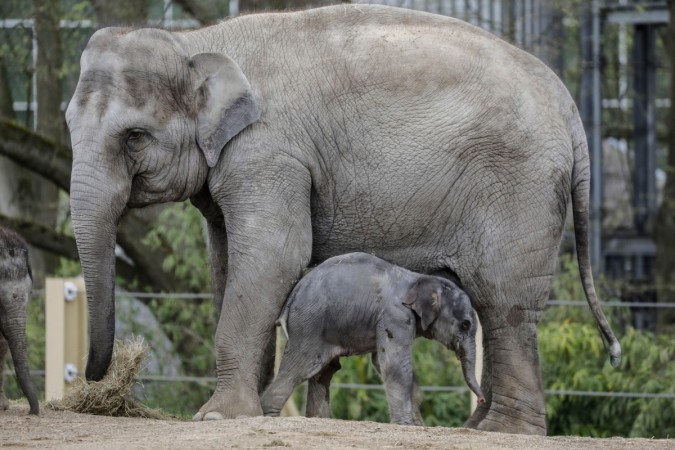 A wild tusker 'Rowdy Ranga' was killed in a road accident near Mathigodu Elephant Camp on Monday after being knocked down by a speeding bus on the Thithimathi-Gonikoppa highway.
The elephant was hit by the bus around 3 am when he was returning to the camp after grazing in the forest, confirmed the senior forest department officials. The impact of the accident was such that the tusker was left with a broken leg and hip. The spinal cord of the elephant was badly injured and he was left completely disabled. He succumbed to injuries after battling for life for over four hours.
"He had finished grazing and was crossing the road to get back to the camp when a speeding private bus, commuting from Kannur to Bengaluru, hit him," said Range Forest Officer (RFO) Surendra.
Ranga was aged between 45 and 48-years-old and was brought to Mathigodu camp in July 2017 from Bannerghatta forest area to be trained to use his services for capturing other "rogue" elephants that entered human landscape frequently.
A case has been registered against the driver Ismail Nalkath Bin Khader under the Wildlife Protection Act. The villagers were into tears as the tusker breathed his last. In fact, the Ponnampet police had to intervene to control the villagers who rushed to the spot to see the elephant as he struggled for his life.
The forest officials who visited the spot included Mysuru wildlife division deputy conservator of forest Hanumanthappa, assistant conservator of forest Prasanna and Surendra among others.
"It is not possible to stop traffic on this road as there is no alternative route available. However, mitigation measures such as putting speed breakers, awareness boards and holding awareness programmes should be carried out," said conservationist Col Muthanna. He added that a year ago, an Indian Gaur was killed on this same place after it collided with a lorry. There has to be strict enforcement of laws in this regard, and proper cases should be filed against defaulters, he said.