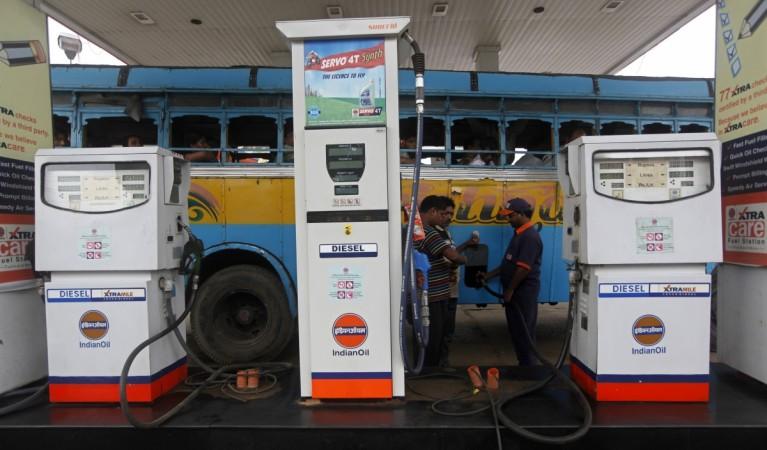 Karnataka's reputation as a low-price haven for fuel is at stake with an increase in tax rates pushing up petrol and diesel prices when the prices have skidded in most states.
Petrol now costs Rs 70.84 per litre and diesel Rs 64.66 per litre, respectively, in Bengaluru, following the rise if sales tax.
The HD Kumaraswamy-led government has raised the sales tax on petrol to 32 per cent and diesel to 21 per cent, respectively from 28.75 per cent and 17.73 per cent, media reports say.
The government of the Congress-Janata Dal (S) combine has said the rate increase is to offset revenue loss following a fall in the fuels' base price in line with the drop in international crude.
The chief minister's office has clarified the government has been feeling the crunch as international crude has fallen over the past two and a half months. Since the country has stopped the administrative pricing mechanism, the domestic prices have been feeling the immediate impact of the international price variations.
The government, however, claims that even with the current rate hike, the state has relatively lower fuel prices when compared with neighbouring states, according to the report in the Business Standard website.
The government says it had reduced the tax rates to 28.75 per cent and 17.73 per cent for petrol and diesel respectively from 32 per cent and 21 per cent on September 17 last year following an increase in the base price and consumer resentment over price rise. The action meant the government lost revenue to the tune of Rs 2 on both fuels.
The last tax rate hike was on July 15 last year to 32 per cent on petrol and 19 per cent on diesel resulting in fuel prices increase of Rs 1.14 and Rs 1.12, respectively.
The central government reduced the central excise duty on petrol and diesel by Rs 1.5 per litre from October 5, 2018, and directed oil marketing companies to cut fuel prices by Rs 1 per litre out of their own margin, the statement recalled.
Data available with the Economic Times website shows that the average price of petrol in Kerala is Rs 70.27 per litre, Tamil Nadu Rs 71.30, Telangana Rs 72.44, and Andhra Pradesh Rs 85.81. Diesel costs Rs 65.91 per litre in Kerala on an average, Rs 66.17 in Tamil Nadu, Rs 67.68 in Telangana, and Rs 78.56 in Andhra Pradesh.