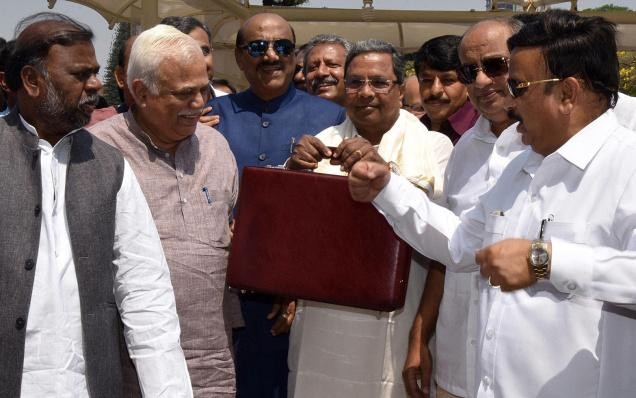 Chief Minister Siddaramaiah started the budget speech at 11.35 am and ended it at 3.45 pm. His presentation, which went on for 4.10 hours, turned out to be the marathon budget speech. His budget size is Rs 2,09,000 crore and it is said to be one of the biggest state government budgets in India. Here are allocations for various departments:

| | |
| --- | --- |
| Budget | Department |
| Rs 17,192 crore | Urban development |
| Rs 26,846 crore | Education |
| Rs 7,301 crore | Agriculture and Horticulture |
| Rs 5,371 crore | Women and Child department |
| Rs 14,136 crore | energy industry |
| Rs 1,091 crore | Horticulture |
| Rs 15,767 crore | Agriculture |
| Rs 15,998 crore | Major irrigation |
| Rs 2,114 crore | Minor irrigation |
| Rs 252 crore | Fishery |
| Rs 6,645 crore | Health care |
| Rs 3,942 crore | Housing development |
| Rs 6,642 crore | Revenue Department |
| Rs 1,949 crore | Environment |
| Rs 5,837 crore | Cooperation department |
| Rs 1,928 crore | Commerce and IT department |
| Rs 2,208 crore | Transport department |
| Rs 2,245 crore | Animal Husbandry |
| Rs 1,350 crore | Anil Bhagya |
| Rs 1,335 crore | Labour and skill development |
| Rs 3,480 crore | Road construction |
| Rs 75,000 crore | Others |
1.30 pm: The CM announced Rs 200 crore for Christian community, Rs 80 crore for Jain and Sikh communities, Rs 15 crore for modernisation of Madrasas and Rs 800 crore for development of areas inhabited by minority communities.
01:20 pm: Siddaramaiah has allocated Rs 26,846 crore to Education department and this amount will be used for infrastructural developments like CCTV cameras, hostels, digital library. It is 20 per cent higher than the last year.
01:05 pm: The government decided to increase the tax on Liquor by 8 percent in the next financial years

01:05 pm: Siddaramaiah announced to reward Rs 5 lakh encouraging the inter-caste marriages involving dalits
12.59 pm: The CM announced Universal health scheme. CM of Karnataka tweeted: "The first state to launch Universal Health Coverage, the much awaited 'Aarogya Karnataka' scheme will be launched in Feb 2018. #NavaKarnatakaBudget2018 #NavaKarnatakaNirmana."
12:54 pm: The Chief Minister announced Rs 5,371 crore for women and child development, Rs 237 crore for youth empowerment and sports department, Rs 2,281 crore for the welfare of minorities
12.38 pm: The CM has intended to spend Rs 15,950 crore on to improve various channels and irriation department.
12.30 pm: Government has intended to build Basava Study Centre in Mysore and Post Graduation Centre in Chikmagalur
12.25 pm: The CM launched 'Madhyama Sanjeevini scheme'. The families of jounalists, who are died in accident, will be give an aid of Rs 5 lakh. Journalist Bhavan will be built with Rs 5 crore

12.15 pm: All stundents will get free bus passes and 19.60 lakh students will be benefited from this decision.
12.12 pm: Around 70 lakh farmers will get the benefit of Raitara Belaku. CM of Karnataka tweeted: Launching Raita Belaku to empower 70 lakh dry land farmers across Karnataka with economic independence! This will be the nation's biggest programme in terms of area covered & no. of farmers impacted. #NavaKarnatakaBudget2018
CM of Karnataka tweeted: With a Budgetary Allocation of Rs. 5849 crore for the Dept of Agriculture in 2018-19, the Govt of Karnataka is committed to empower farmers in the state with a host of programmes. #NavaKarnatakaBudget2018
12.010 pm: Rs 20 crore aid to Sugarcane cutting machine

12.07 pm: We have decided to give loan to 10 lakh farmers at the interest rate of 3 percent. We have planned to allocate Rs 50 crore encourage organic forming.
12.00 pm: Our Government has encouraged women entrepreneurs, which has been discussed and appreciated nationally.
11.59 am: The government has waived-off Rs 8,165 crore farmer loan. Rs 1898 crore spent on construction of the agricultural pond, pali House.
11.57 am: Pay commission has recommended a 30 per cent hike in salary and 5.93 lakh government empolyees wil benefited by this move. With this, the government will be carrying the additional burden of Rs 10,508 Crore.
11.55 am: The Chief Minister assures to implement the recommendations of the committees to decide the 6th pay commission and the waiver of farmers' loan.
11.51 am: Despite adverse effect of demonetisation, the state has witnessed tremendous growth in the financial year 2017-18
11:50 am: Our government has created over 1.5 lakhs jobs in the last four years, says the CM
11:49 am: "I'm a farmer's son, I know the problems of farmers. This is pro-farmer government," says the CM.
11.45 am: My government has always strived hard to serve the downtrodden, farmers and other sections of the society. He went on to explain how the congress government has work hard to make Karnataka no 1 state in the country.

11.42 am: Siddaramaiah started the presentation of Karnataka State Budget 2018, by thanking the people of the state and all the political leaders. He says that I am not a graduate in Economics, but I have earned vast experience of financial affairs in my political career spanning four decades.

ANI tweeted: #Visuals from Bengaluru: Budget copies being taken inside #Karnataka Legislative Assembly
9.30 am: Siddaramaiah is set to present his 13th budget at 11.30 am today. Siddaramaiah tweeted: Looking forward to presenting my 13th Budget as CM/FM. It has been a great journey of 4 decades as a farmer's leader, as a Kannada Activitist, as a Minister, as a Leader of Opposition & as CM Have changed policy in favor of the poor. There is more to do. #KayakaveKailasa
Looking forward to presenting my 13th Budget as CM/FM.

It has been a great journey of 4 decades as a farmer's leader, as a Kannada Activitist, as a Minister, as a Leader of Opposition & as CM

Have changed policy in favor of the poor.

There is more to do.#KayakaveKailasa

— Siddaramaiah (@siddaramaiah) February 16, 2018
In the past 5 years, our Govt has taken forward the state's legacy of growth & enterprise, while also fulfilling the needs & aspirations of all our citizens. This year too, we are committed to take this forward with the #NavaKarnatakaBudget2018

— Siddaramaiah (@siddaramaiah) February 16, 2018
Today when I rise before the Legislature - our own Anubhava Mantapa - I picture the last person who needs a help, the farmer who needs hope & the girl who has a dream.

In responding to their aspirations I am guided by Basavanna, Ambedkar & Gandhi.#NavaKarnatakaBudget2018

— Siddaramaiah (@siddaramaiah) February 16, 2018
In 1994, I presented my first State Budget as Fin Min. 24 years later, as I get ready to present my 13th Budget today, I look back on the journey of Karnataka with extreme pride. We have made progress in all sectors & scripted a series of national firsts. #NavaKarnatakaNirmana

— Siddaramaiah (@siddaramaiah) February 16, 2018
Chief Minister Siddaramaiah (Siddaramayya), who also holds the finance ministry, is set to present Karnataka State Budget 2018 on Friday, February 16. He will create a record, as it is going to be his 13th budget.
Siddaramaiah, 70, has presented five budgets as the Congress chief minister since 2013 and seven as deputy chief minister in the Congress-Janata Dal coalition government in 2005-07 and in the Janata Dal-United (JD-U) government in 1995-2000. He has done 12 budgets so far.
Kerala Congress chairman KM Mani (84) is one of the longest-serving legislators in the country and has completed half a century as MLA. He is the first Indian minister at the state level to have presented 13 budgets. Siddaramaiah is second, but he is doing it in a fewer number of years.
The term of the Congress-led government is going to end in May and this budget is expected to have a strong impact on the upcoming Assembly elections. Siddaramaiah is reportedly under tremendous pressure, as he needs to present a budget that would please voters from all sections of society. So he is said to be increasing the outlay of the budget.
Siddaramaiah, who has made a name for himself with his freebee-oriented budgets, has reportedly prepared a budget of Rs 2.20 lakh crore for 2018-19. He is said to have aimed to help everyone to pave way for the victory in the upcoming poll. He is said to be introducing new schemes, besides continuing existing "Bhagya" schemes. He is set to announce liberal incentives to various sections of voters.
The chief minister is said to be adding a new freebie called the "Vasthra Bhagya" scheme, through which the government will distribute a pair of dhoti and saree to Below Poverty Line (BPL) families once a year. He is set to waive the loans of farmers. He is also likely to increase the incentive for inter-caste marriages within SC/ST communities.
However, the government has failed to get the expected amount of revenues from the tax in the current financial year, which is going to be challenging for Siddaramaiah, who might find it difficult to mobilize resources to implement the proposals made in the budget.
But his aim is to make it a populist budget to reap electoral dividends in the forthcoming Assembly elections. He is said to be trying his best.
'Madhyama Sanjeevini scheme'
road construction