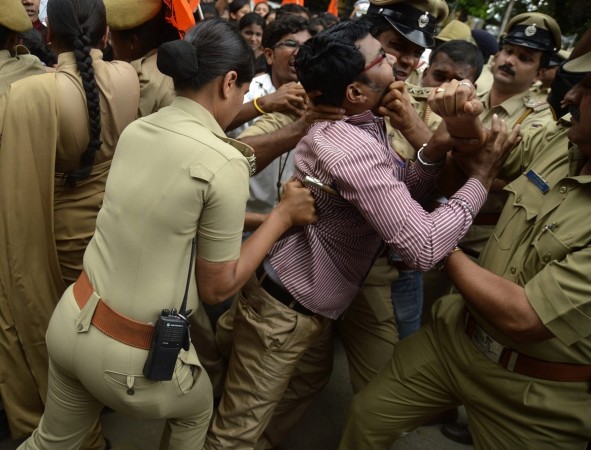 Despite Karnataka Chief Minister Siddaramaiah's assurance that the violence in Yellur village has been brought under control, Shiv Sena on Monday demanded President's rule in the bordering areas.
Following the attacks on Marathi-speaking people by the state police in Yellur in Karnataka's Belgaum district on Sunday, Shiv Sena demanded that President's rule be imposed in the disputed areas, bordering Maharashtra and Karnataka.
The police had resorted to lathi charge, when some villagers pelted stones at them, while protesting against the removal of the signboard claiming that Yellur village belongs to Maharashtra.
Shiv Sena chief Uddhav Thackeray referred to the action by the Karnataka police "as horrifying as the terror spread by Hafiz Saeed".
"Everyday, the Marathi people in Belgaum are trampled by Karnataka Police. This is terrorism of the kind perpetrated by Hafez Saeed. If Karnataka Police continue terror tactics like Saeed, then it is the Centre's duty to rein them in," The Economic Times quoted Thackeray.
Siddaramaiah had earlier announced that the situation in the village has been stabilised, and that the board, which was the subject of the dispute on Sunday, would be removed following high court orders.
"The district administration has imposed prohibitory orders and the situation there now is peaceful," Mint quoted Siddaramaiah.
Belgaum SP Chandragupta also confirmed that the situation in the area has been stabilised.
"No untoward incidents have been reported anywhere in Belgaum taluka since Sunday night. Additional police have been deployed to maintain law and order," he said.
Chandragupta added that the violence on Sunday left 25 injured, of which 18 were constables.
Following the high court order, the Public Works Department on Friday removed the signboard with 'Maharashtra Rajya' written on it.
However, the pro-Maharashtra supporters reinstalled the board on Saturday, which was again removed by the district administration on Sunday, leading to protests by the former.