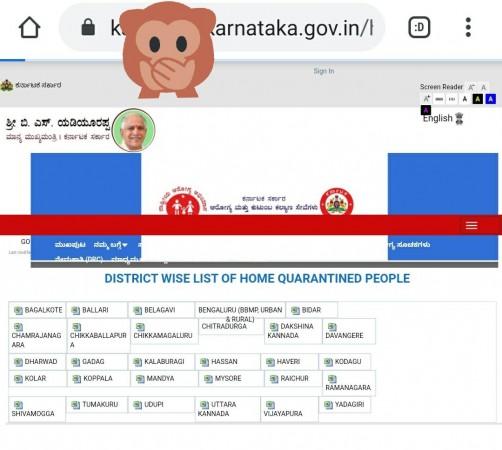 A report has been doing the rounds on social media with a claim that the Karnataka government on Tuesday, March 24, has revealed information, including journey details and addresses of close to 15,000 people who have been placed under home quarantine, on its official website.
The incident happened days after over 500 joint teams of civic and police officials were formed to keep a check of those under home quarantine across the state.
The list, which is now viral on the Whatsapp groups, couldn't be independently verified by International Business Times, India.
The list also included a district-wise break up of the home quarantine patients. Check it here:

Privacy of Covid-19 suspects violated
A senior Public Relations executive Tinu Cherian Abraham took to Twitter saying, "A list (ms excel & pdf formats) with close to 15,000 entries is under wide social media circulation. It has passenger list from March 10th in Bangalore. No names, but has journey details, flat no, apartment name, place etc. It claims to be issued by Government of Karnataka."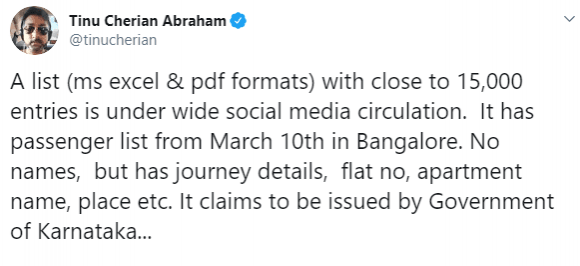 To verify the authenticity of the post, we tried to reach out to senior IAS officer Manivannan, but the officer hasn't been available to take calls. The story will be duly updated upon learning more.
However, Abraham said that he couldn't find his name on the list. It is a huge privacy issue and could lead to a witch hunt of people and put the lives of a lot of people at risk, the person stated.
Meanwhile, a senior editor of a leading news channel Chandra R Srikant claimed that the list is genuine. "Found my address. Already hearing about trouble at many societies because of this. Totally unnecessary considering these ppl have been hand stamped, served notice & are at home. To be treated like common criminals is terrible esp with RWA vigilantes around," Srikant tweeted.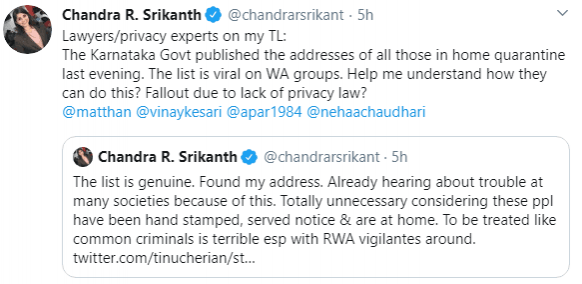 'A fallout of India not having privacy law'
Justice Srikrishna, who drafted the Data Protection Bill, told Chandra R Srikant that this happened due to the fallout of not having privacy law in place. "Even under privacy law, there are exemptions for extraordinary circumstances like these. Govt can invoke public safety/health/order to get away with this," Justice Srikrishna stated.
With seven more people testing positive for the Covid-19 pandemic in Karnataka, the number of confirmed novel coronavirus cases has risen to 41.
To contain the spread of COVID-19, Karnataka Home Minister Basavaraj Bommai had announced partial lockdown in nine districts of Karnataka with immediate effect till March 31st.
Meanwhile, Prime Minister Narendra Modi announced a nationwide lockdown in India for 21 days while addressing the public in his speech.