As the massive and much talked about Income Tax raids at the residences and offices of Karnataka energy minister D K Shivakumar concluded on Saturday, August 5, morning, he has finally spoken up on the search and said that he has nothing to hide. The IT sleuths began the raids early on Wednesday morning.
The taxmen had kept Shivakumar at his Sadashivanagar residence since the raids began for questioning and now that the search has concluded, the minister said that he would meet the Gujarat MLAs, staying at the Eagleton Gold Resort in the outskirts of Bengaluru.
"I will first visit a temple and later meet the Gujarat MLAs, who have come to Bengaluru reposing faith in me," ANI quoted him as saying.
While he did reveal that he planned to meet the Gujarat MLAs, he refused to talk about the IT raids and what has or has not been found. "Nobody can hide the truth. I will speak in detail only after obtaining the 'panchanama' documents. I never worked against the spirit of the law and Constitution... I am not embarrassing my party and at no point, will I let down my leaders," Shivakumar asserted.
He then went on to thank the Congress leaders and his supporters for standing by him through the raids.
The minister on Friday morning had complained of ill-health and exhaustion, after which his family doctor was rushed to his residence. The doctor had advised him rest. "His blood pressure had shot up. My brother said he was questioned till over 2 a.m. for two days and hence deprived of sleep," the Hindu had quoted Shivakumar's brother.
Meanwhile, questions are being raised on whether the Karnataka minister would be arrested but the IT department has said that they wouldn't arrest Shivakumar. "The I-T department will not arrest any person. Arrests can only be made after the ED joins the probe, which now looks almost certain," the New Indian Express quoted sources as saying.
Even though the raids at Shivakumar's residence and office have been concluded, sources told the daily that search operations continue at the minister's father-in-law's house and factory in Mysuru.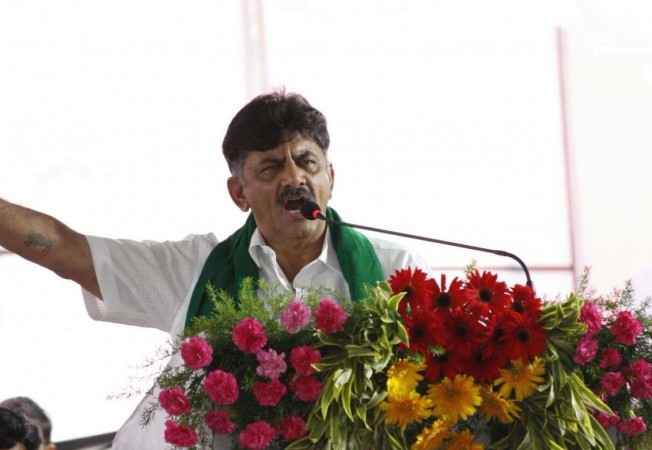 The state of Karnataka woke up to startling headlines on Wednesday when the Income Tax department raided DK Shivakumar's residence at Sadashivanagar and also the Eagleton Golf Resort where he was staying. Shivakumar, who was in-charge of hospitality for Gujarat Cong MLAs in Bengaluru, was at the resort when the raid took place. The raid was said to have started as early as 7 am.
While it was earlier said that all the MLAs' rooms were being searched, the IT officials clarified that only Shivakumar's room in the resort was being searched.