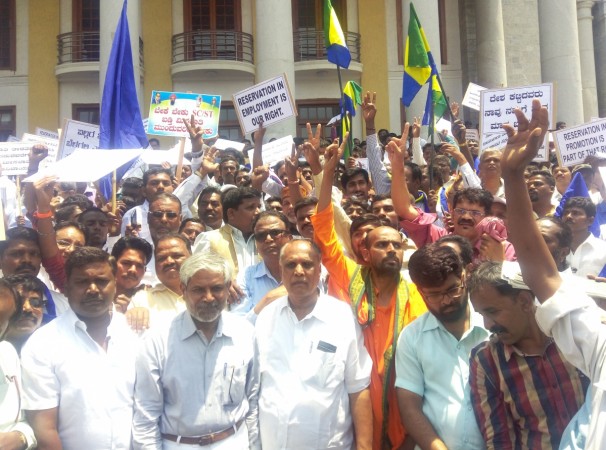 Dalits from several parts of Karnataka converged in Bengaluru on Thursday, March 23, in protest against a Supreme Court order that held a state law on promotion for backward-class employees invalid. Their protests led to traffic snarls in some of the biggest thoroughfares in the city, causing inconvenience to passengers on the road.
Also read: At least 10,000 dalit government employees to be demoted in Karnataka
The protest rally started at Town Hall in Bengaluru with the gathering of hundreds — and quite possibly thousands — of agitators gathering at the spot and raising slogans on how reservation was their right, and that it should not be taken away from them. The protest was peaceful, with a large police contingent escorting them to Freedom Park, where a public meeting addressed by several local Dalit leaders was held.
The Supreme Court ruling
On February 9, a Supreme Court bench of Justices Adarsh K Goel and UU Lalit had declared that the Karnataka Determination of Seniority of the Government Servants Promoted on the Basis of Reservation (To the Posts in the Civil Services of the State) Act was invalid.
The fallout of this was that the Congress was jittery over the fact that close to 10,000 Dalits would be demoted as a result of this order. The state government has three months from the date of the ruling to appeal the decision. That is exactly what the Dalits, protesting on Thursday, were demanding. And with the state election just about a year away, the Congress cannot afford to go wrong with this.
Traffic snarls
The protest and the march from Town Hall caused traffic snarls at several points along intersecting roads. However, there was no untoward incident in any of this, perhaps due to the police presence in the area. Nevertheless, there was at least one instance of an ambulance getting stuck in the traffic resulting from the protest rally.