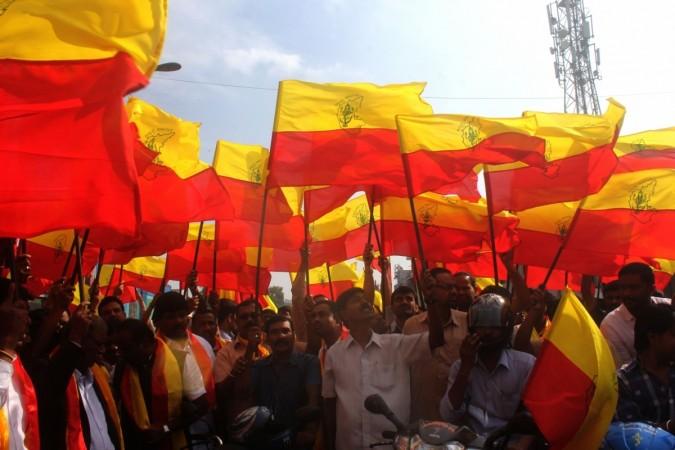 The Karnataka By-Election 2018 has 5 seats up for grabs—3 Parliamentary seats and 2 Karnataka assembly seats. The results are being announced with rounds of counting coming in by the minute.
Parliamentary seats are for the Shivamogga, Ballari and Mandya districts, while Jamkhandi and Ramanagara seats are being contested for the Karnataka assembly.
With counting of votes already underway, the clash of egos with the ruling alliance—JDS+Congress—against the BJP has served them results that they saw coming, for the most part.
Previously, of the three parliamentary seats, BJP held two while JDS had one. Shivamogga is a well-known BJP fortress guarded by former CM of Karnataka BS Yeddyurappa and Ballari is held in an iron grip by the Reddy brothers. Mandya, on the other hand, is JDS land.
The only surprise of the day, so far, has been the Ballari results. What was once a Reddy stronghold has been breached rather spectacularly by Congress. VS Ugrappa has, as of now, a historic lead in the district, with over 200,000 votes higher than his main opponent, J Shanta, who is contesting on a BJP ticket.
Live Updates
BJP concedes defeat in the Karnataka By-Election at Ballari
The BJP failed to procure any seats in the Karnataka By-Election as far as the assembly seats are concerned and suffered a massive loss at Ballari, losing to VS Ugrappa (Congress). The defeat is a record breaking one as Ugrappa now has a lead of over 200,000 votes. BJP MLA and former MP B. Sriramulu accepted defeat in a statement made to the press. His sister, J Shanta was only able to procure 339,313 votes for the party.
Lok Sabha: (parliamentary seats)
Shivamogga
BY Raghavendra(BJP) 530,137—leads
Madhu Bangarappa (JDS) 470,694 votes
Ballari
J Shanta (BJP) 339,313 votes
VS Ugrappa (Cong) 554,139 —leads, wins seat
Mandya
Shivarame Gowda (JDS) 569,302—leads
Dr. Siddaramiah (BJP) 244,377 votes
Vidhana Sabha: (Karnataka assembly seats)
Ramanagara
Anitha Kumaraswamy(JDS)—120,777—takes seat
L Chandrashekar (BJP)—15,483 votes—loses election
Jamkhandi
Shrikanth Kulkarni (BJP)—57,492 votes—loses election
Anand Nyamagouda (Cong)—96,968 votes—takes seat
Siddaramaiah calls out Reddy in Tweet over Ballari loss
The people of Ballari have cursed Janardhan Reddy for his "uncultured" statements, said former CM of Karnataka Siddaramaiah after BJP's historic loss, which is being seen as an embarrassment to the once-BJP stronghold of Ballari.
ಬಳ್ಳಾರಿಯ ಜನತಾ ಜನಾರ್ಧನರಿಗೆ ಧನ್ಯವಾದಗಳು.

ಜನಾರ್ಧನ ರೆಡ್ಡಿಯವರ ಅಮಾನವೀಯ ನಡೆ-ನುಡಿಗೆ ಬಳ್ಳಾರಿ ಜನರೇ ಶಾಪ ನೀಡಿದ್ದಾರೆ.@INCKarnataka

— Siddaramaiah (@siddaramaiah) November 6, 2018
Lok Sabha: (parliamentary seats)—Update—BJP, Congress, and JDS each maintain lead
Shivamogga
BY Raghavendra(BJP) 374,734 —leads
Madhu Bangarappa (JDS) 333,296 votes
Ballari
J Shanta (BJP) 245,252 votes
VS Ugrappa (Cong) 406,367 —leads
Mandya
Shivarame Gowda (JDS) 394,807 —leads
Dr. Siddaramiah (BJP) 161,135 votes
BJP loses both Vidhana Sabha (assembly seats) in the 2018 Karnataka By-Election
Vidhana Sabha: (Karnataka assembly seats)
Ramanagara
Anitha Kumaraswamy(JDS) Wins—70,240 votes—takes seat
L Chandrashekar (BJP)—10,249 votes—loses election
Jamkhandi
Shrikanth Kulkarni (BJP)—42,671 votes—loses election
Anand Nyamagouda (Cong) Wins—71,787 votes—takes seat
End of 9th round counting
Lok Sabha (parliamentary seats) standings at the end of 9th round counting:
Shivamogga
BY Raghavendra(BJP) 319,887—leads
Madhu Bangarappa (JDS) 280,723 votes
Ballari
J Shanta (BJP) 194,376 votes
VS Ugrappa (Cong) 334,907—leads
Mandya
Shivarame Gowda (JDS) 330,646—leads
Dr. Siddaramiah (BJP) 129,659 votes
Lok Sabha seat standings so far
Lok Sabha: (parliamentary seats)
Shivamogga
BY Raghavendra(BJP) leads by 23,400 --total votes 226,197
Madhu Bangarappa (JDS) trails --total votes 202,797
Ballari
J Shanta (BJP) trails --total votes 128,121
VS Ugrappa (Cong) leads by over 150,723 --total votes 228,844
Mandya
Shivarame Gowda (JDS) leads by 105,712 --total votes 169,109
Dr. Siddaramiah (BJP)- trails--total votes 63,397
Karnataka By-election by the numbers- leads and trails right now
Lok Sabha: (parliamentary seats)
Shivamogga
• BY Raghavendra(BJP) leads by 14,833 votes
• Madhu Bangarappa (JDS) trails
Ballari
• J Shanta (BJP) trails
• VS Ugrappa (Cong) leads by over 100,723 votes
Mandya
• Shivarame Gowda (JDS) leads by 105,712 votes
• Dr. Siddaramiah (BJP)- trails
Vidhana Sabha: (Karnataka assembly seats)
Ramanagara
• Anitha Kumaraswamy(JDS) leads by over 37,000 votes
• L Chandrashekar (BJP) trails
Jamkhandi
• Shrikanth Kulkarni (BJP) trails
• Anand Nyamagouda (Cong) Leads by 9,555 votes
The situation so far--Who leads, who trails, and who are the favourites to win
Lok Sabha: (parliamentary seats)
Shivamogga
BY Raghavendra(BJP) leads
Madhu Bangarappa (JDS) trails
Ballari
J Shanta (BJP) trails
VS Ugrappa (Cong) leads by over 64,000 votes
Mandya
Shivarame Gowda (JDS) leads
Dr. Siddaramiah (BJP)- trails
Vidhana Sabha: (Karnataka assembly seats)
Ramanagara
Anitha Kumaraswamy(JDS) leads by over 37,000 votes
L Chandrashekar (BJP) trails
Jamkhandi
Shrikanth Kulkarni (BJP) trails
Anand Nyamagouda (Cong) Leads by 9,555 votes
The candidates, parties, and regions
Lok Sabha seats:
Shivamogga—BY Raghavendra(BJP) takes on Madhu Bangarappa (JDS)
Ballari—J Shanta (BJP) takes on VS Ugrappa (Cong)
Mandya—Shivarame Gowda (JDS) takes on Dr. Siddaramiah (BJP)
Vidhana Sabha: (Karnataka assembly seats)
Ramanagara—Anitha Kumaraswamy (JDS) takes on L Chandrashekar (BJP)
Jamkhandi—Shrikanth Kulkarni (BJP) takes on Anand Nyamagouda (Cong)