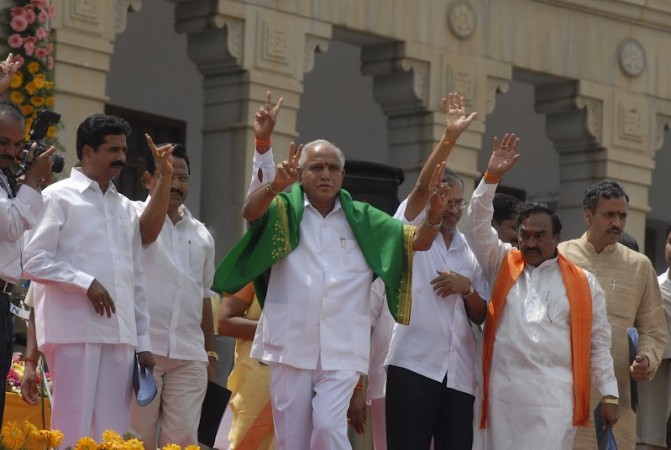 In a major setback for the Jagadish Shettar-led government in Karnataka, around 15 BJP MLAs, owing allegiance to former party president BS Yeddyurappa, will reportedly resign from the party on Wednesday.
Among the MLAs set to quit are public works minister C.M. Udasi and energy minister Shobha Karandlaje. Confirming her decision to leave the party at a press conference on Tuesday, Karandlaje said, ""I am proud and have the satisfaction of performing well during my tenure ... I am leaving the department. It is my last day (Tuesday), hopefully, in office," Hindustan Times reported.
Reports said that the MLAs will tender their resignation to Legislative Assembly Speaker K.G. Bopaiah. They will, however, not meet Governor HR Bhardwaj, as they do not want to be accountable for the fall of the government by expressing non-confidence in Chief Minister Shettar.
"Our main intention is to display our strength and show that the BJP's as well as the Shettar government's strength will significantly diminish without us. Above all, we have to build the party (KJP) ahead of the Assembly polls by severing links with the BJP," a BJP leader, who is set to leave the party, told The Hindu.
The resignation of the MLAs has put the BJP on the edge. Around 30 MLA's had already quit the party and joined the Karnataka Janata Party, a regional political outfit launched by Yeddyurappa in December.
Cracking the whip against those who joined the BSP camp, the BJP sought disciplinary measures and sacked Cooperative Minister B J Puttaswamy and suspended Tumkur MP G S Basavaraj from the party.
With more MLAs expected to follow suit, the high command is weighed down by fears of a total breakdown of the only BJP-led coalition in South India. The party has a strength of 119 MLAs in the 223-member Assembly with two vacant seats. Despite the high possibility of it being reduced to a minority, party members are confident it will garner enough support even from the Independents to have enough numbers, The Hindu reported.