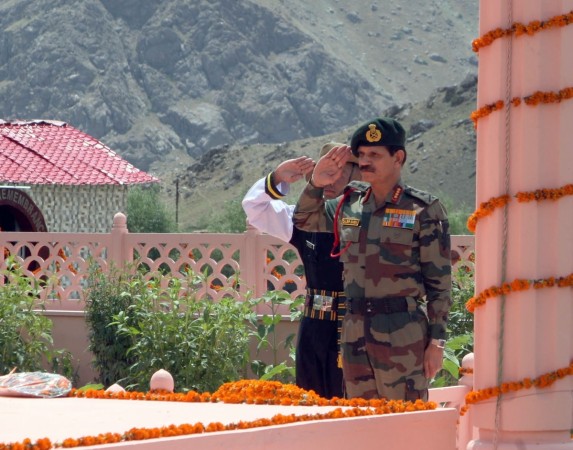 India paid homage to the martyrs of the Kargil War that broke out between India and Pakistan in 1999 after infiltration from Pakistan into Jammu and Kashmir's Kargil district.
The war that lasted for two months was believed to have been orchestrated by Pakistan Army chief General Pervez Musharraf without the knowledge of then Pakistan Prime Minister Nawaz Sharif.
The Indian government launched 'Operation Vijay' to evict the infiltrators. The Indian Army, along with the Indian Air Force, recaptured the posts that were occupied by Pakistani infiltrators on July 26, 1999.
The victory came at a high price as India lost over 500 of its soldiers. Over 400 soldiers died on the other side of the border.
Several politicians, sports personalities and celebrities paid homage to the soldiers who died during the war. Tributes were paid at the Kargil War Memorial in Drass, India Gate and the Amar jawan Jyoti.
#VijayDiwas Hon'bleRM @manoharparrikar & RRM alongwith 3 Svc Chiefs pay homage at AJJ India Gate @SpokespersonMoD pic.twitter.com/JgHGeHiiFq

— SpokespersonNavy (@indiannavy) July 26, 2016
A woman breaks down as she reads name of her brother (Indian Army Soldier) engraved on the Kargil #KargilVijayDiwas pic.twitter.com/0VqD6jnA4X — Anshul Saxena (@AskAnshul) July 26, 2016
Sand artist Sudarsan Pattnaik pays tribute to the Kargil War heroes with a sand sculpture on #KargilVijayDiwas pic.twitter.com/0O5OsBnoa8

— TIMES NOW (@TimesNow) July 26, 2016
Remembering our soldiers, who put themselves in harm's way, so that we can live without fear. #kargilvijaydiwas pic.twitter.com/2ZO183HJXi — Sachin Bansal (@_sachinbansal) July 26, 2016
#kargilvijaydiwas being observed today. @manoharparrikar, 3 Service Chiefs to pay homage to martyrs at India Gate. pic.twitter.com/IbHyIRfi4f

— All India Radio News (@airnewsalerts) July 26, 2016
#kargilvijaydiwas Veerbhoomi at Kargil War Memorial, Dras - Each #martyr remembered with a plaque @adgpi pic.twitter.com/PgwEByAhLH — NorthernComd.IA (@NorthernComd_IA) July 24, 2016
17th #kargilvijaydiwas celebrations. Military tattoo organised for locals at Dras today. @adgpi pic.twitter.com/zpGrkgFBIi

— NorthernComd.IA (@NorthernComd_IA) July 24, 2016
#kargilvijaydiwas War Memorial,Dras decked up to salute valor&sacrifice of Kargil martyrs from 24 from 26 Jul @adgpi pic.twitter.com/POEUy1wCkv — NorthernComd.IA (@NorthernComd_IA) July 23, 2016
Pics: This is how #VivekOberoi brought in the Kargil Diwas. #kargilvijaydiwas @vivekoberoifanshttp://t.co/244gavhTLl pic.twitter.com/fOi1X0hPd5

— Daily Bhaskar (@daily_bhaskar) July 29, 2015