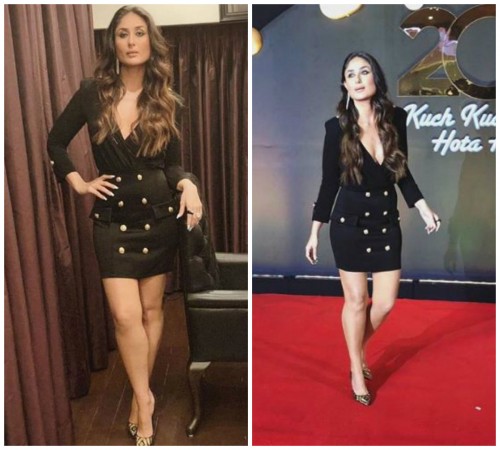 As usual, Kareena Kapoor Khan looked extremely gorgeous in a black dress at the 20th-anniversary celebration of Kuch Kuch Hota Hai. However, the price of her outfit is not all that usual.
Bebo was seen sporting a Balmain plunge mini black dress at the event. Kareena looked extremely sensual in the dress and left everyone at the venue awe-struck with her beauty.
But do you know much how the actress spent on the stylish outfit? According to Bollywoodlife, the price of Kareena's gorgeous black dress is Rs 1,83,000. Well, that really is some big bucks.
Kareena is one such popular Bollywood celeb who is not available on social media. But the actress is always trending on the internet for her cool outfits or because of her son Taimur.
While her fans would love to see Kareena joining social media, the actress has a sassy response to the query on why she is not willing to be a part of it.
"Despite not being active or even present on social media, I am still all over it. I don't need to put out anything more about my life. On the other hand, some people are active on social media, yet no one is interested in them," she told a magazine.
The 38-year-old actress will next be seen in Karan Johar big movie Takht. Apart from her, the film also features Ranveer Singh, Alia Bhatt, Vicky Kaushal, Anil Kapoor, Bhumi Pednekar and Janhvi Kapoor.