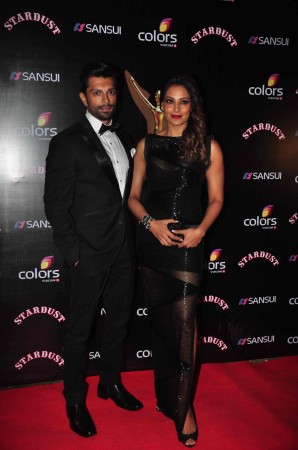 Popular TV actor Karan Singh Grover's Bollywood debut tanked at the box office, and it's not hard to imagine why. With a script so loosely written and near-average performances, "Alone" left the spookiest of spooks spooked. But, there's still room for salvation.
The young actor has reportedly signed an erotic thriller, in which he will be seen romancing three leading ladies.
"We're experimenting with a new genre after horror films like Aatma and Alone. Karan, the solo male lead, will have three heroines opposite him. It'll be wild," producer Kumar Mangat told Mumbai Mirror.
Will alleged girlfriend Bipasha Basu be a part of it? Mangat says, "That's not decided yet."
Karan might have wooed TV viewers with his charm in hit daily soaps "Dill Mill Gayye" and "Qubool Hai", but what keeps him in the news are his love affairs.
His divorce with first wife Shraddha Nigam drew flak, but he soon found love in Jennifer Winget. Unfortunately, two years into the marriage, things began to fall apart. However, the couple has not let out details of their decision to go separate ways.
"I have seen a lot of couples fight, while growing up. And I would never want my kid to witness that while growing up, parents making each other so unhappy. Why live that life? Once you come to that realization, mutually, you make the difficult decision to separate," Grover told Miss Malini, when asked about the divorce.
Meanwhile, the on and off-screen chemistry he shares with Bipasha has raised quite few eyebrows leading to yet another gossip. The alleged couple, has however, denied any and all speculation with regard to their 'friendship'.