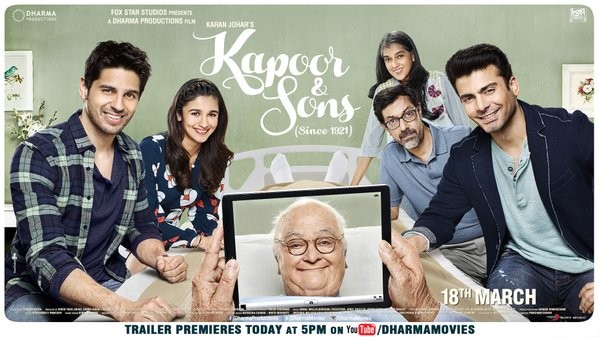 Producer Karan Johar's much-awaited Bollywood movie "Kapoor and Sons," starring Sidharth Malhotra, Fawad Khan and Alia Bhatt, has received positive reviews from the audience.
Watch: Pawan Kalyan's Sardaar Gabbar Singh Hindi teaser

"Kapoor and Sons" is a romantic comedy-drama film and apart from directing the flick, Shakun Batra has also written script for the movie in collaboration with Ayesha Devitre Dhillon. The movie is about two brothers who fall in love with the same woman.
Rahul (Sidharth Malhotra) and Arjun Kapoor (Fawad Khan) are estranged brothers and their grandfather forces them to return to their childhood home. While living under one roof, family secrets unravel and misunderstandings are on the verge of turning into tragedy. Adding to this, both Rahul and Arjun fall in love with the same girl (Alia Bhatt).
After watching the flick, the audience say Shakun Batra has penned an amazing script, which has several twists and turns to keep viewers engaged from the beginning to end. "Kapoor and Sons" has several romantic, funny and emotional moments, which will appeal to all classes of film goers. It is surely a treat for family audience.
See: Kapoor and Sons Celebs review | KAS Posters | KAS Promotion
Sidharth Malhotra, Fawad Khan and Alia Bhatt have delivered brilliant performances and the chemistry between them is the highlight of "Kapoor and Sons." Rishi Kapoor, Ratna Pathak, Rajat Kapoor and others have done justice to their roles and their performances are also among the big assets of the film.
"Kapoor and Sons" is produced with a big budget by Hiroo Yash Johar, Karan Johar and Apoorva Mehta under the banner of Dharma Productions. The movie has rich production values and melodious music and beautiful picturisation are the highlights on the technical front. We bring you some viewers response shared on Twitter. Here is the live update of "Kapoor and Sons" movie review by audience:
Taran Adarsh ‏@taran_adarsh
#KapoorAndSons is one of Dharma's BEST films. Watertight script, remarkable storytelling, crisp editing. Film hits the right notes... Fawad brilliant, Sidharth tops, Alia superb, Rishi Kapoor awesome, Ratna Pathak Shah terrific, Rajat Kapoor first-rate... #KapoorAndSons Take a bow Shakun Batra. You're a splendid storyteller. KJo and Fox, this one's a sure-shot WINNER. My 4 stars for this one! #KapoorAndSons
Kayoze irani ‏@kayoze
If you are ever looking for the perfect film. I've just found it. Probably one of the best films I've seen in years. #KapoorAndSons Every sense and emotion is pinched and twisted further by the director who gets it right everytime. @shakunbatra you the man.#KapoorAndSons Handsome, great guy, super actor - YES. Does it get better? YES @_fawadakhan_ has just given a performance to blow your mind. #KapoorAndSons Nuanced, funny, heart wrenching, human, perfect. @S1dharthM just gave his best performance yet and left me begging for more. #KapoorAndSons The foundation of a bldg is the rock that holds it. The #KapoorAndSons extended cast is the super rock!!! They make the film.
Tarun Mansukhani ‏@Tarunmansukhani
Every now n then a film comes along that is just so... Perfect!! #KapoorAndSons is THAT film. @shakunbatra you are a master story teller!!!! #KapoorAndSons has great writing, witty dialogues, brilliant actors AND HIT MUSIC!!! Trailer kar gaya chul!! The film is just beautiful!!!!!
Ashish Shakya ‏@stupidusmaximus
Watched Kapoor And Sons last night and it's still stuck in my head. @shakunbatra has worked wonders with the complex beast that is family. Warm, funny and biting, it will take you to familiar places. You may not like all those places, but hey, there they are. #KapoorAndSons The ensemble is great at knocking the (nuanced) writing outta the park. Chaos, silence, tears, poop jokes - everything lands. #KapoorAndSons (Also, Ratna Pathak Shah. Oof. What a terrific performance.) #KapoorAndSons
Shibani ‏@ShibaniWrites
Ever doubted the sanity of yr family, yr capacity 2 love n forgive, yr own place in the world? Masterful @shakunbatra #KapoorAndSons is 4 U Take a huge bow writer Ayesha Devitre, cinematographer Jeffery Bierman and Editor Shivkumar paniker. You are the magicians. #KapoorAndSons Nothing more thrilling than when characters vibrate thru actors playing them. From @chintskap 2 Kishore watchman. Outstanding #KapoorAndSons
Ravi K Chandran ‏@dop007
#KapoorAndSons Sensitively written ,well crafted ,brilliantly directed and every single actor lived thro the film @S1dharthM @karanjohar #KapoorAndSons is going to be one of the most important film in the Hindi film industry .. Go watch it guys .. @S1dharthM @karanjohar

KRK ‏@kamaalrkhan
It's interval n what a film! What a film! What a film! What a film........... #KapoorAndSons! #KapoorAndSons is very good film for urban audience. It will work in multiplexes of big cities like Delhi, Mumbai, Calcutta etc.
Bird Man ‏@boneypaul22
Nice family movie #KapoorAndSons Good performances from @mrrajatkapoor @S1dharthM @aliaa08 ...only -ve cliche climax
Bharath J ‏@bharathj90
Simple,Very emotional n strong story line.Well directed n Well performed.good movie to watch.loved it #KapoorAndSons @S1dharthM @aliaa08
Saniya ‏@ThatRanbirFan
What a movie ! So real , relatable , and a roller coaster of emotions ! Also, some parts came as a surprise. Enjoyed #KapoorAndSons I love you @_fawadakhan_ for doing KapoorAndSons. Family and Relationships & Love is what all #KapoorAndSons is about . Everyone should give it a shot .
Himesh ‏@himeshmankad
Best thing about #KapoorAndSons is it tackles so many issues with a lot of maturity. Go for it @karanjohar @DharmaMovies
Satyadeep Misra ‏@satyadeepmisra
@shakunbatra U have the touch of a master! #KapoorAndSons is such a fantastic film. Super super impressed bro. Many congrats @karanjohar :)
Sufiyan Khan ‏@Khan_Saahab
#KapoorAndSons is full of laughter, fun, entertainment and emotions in abundance. #RishiKapoor is too good, #Aalia is lovely so are the rest
Shalz ‏@smiley_shalz
Done with the first half of #KapoorAndSons .such a heart warming beautiful movie my @aliaa08 n @S1dharthM are just ogle worthy #mydubaiBrilliant performances...and Rishi kapoor has never looked this cute! #KapoorAndSons