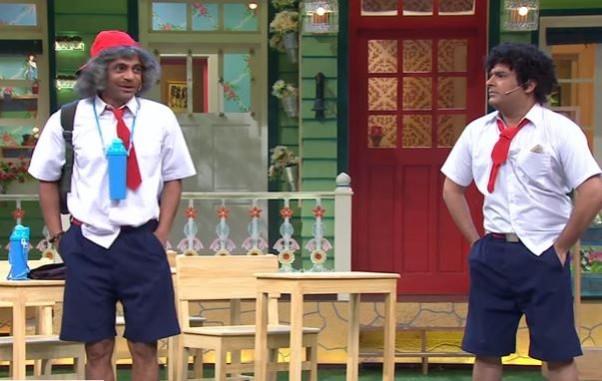 Kapil Sharma and Sunil Grover are fighting yet again, but this time without a shoe apparently. The two comedians had a war of words on Twitter.
The controversial comedian and actor was to hold a press conference on March 20 to launch his upcoming show Family Time with Kapil Sharma. But unfortunately, the event had to be canceled.
Sony TV's PR sent out a statement saying: "There has been a technical issue on the sets which cannot be resolved immediately. Hence, today's shoot had to be rescheduled. The press conference is also been rescheduled. We will update you on the revised dates. We apologize for any inconvenience caused."
But is it the real truth? Or was Kapil trying to avoid the uncomfortable questions by media after what happened on Twitter? Well, it remains a mystery.
Meanwhile, talking to TimesOfIndia.com, Sunil Grover spoke about his Twitter fight with Kapil Sharma. He said: "I was tired of continuous questions by fans asking me if I was going to be a part of Kapil's upcoming show, so I decided to answer it. But I had no intentions to fight with Kapil or say anything nasty about him. I remained silent even after the fight that took place last year. I never said anything. I was under pressure since few days as my fans kept asking me if I am doing the show and I just reacted."
Sunil also told the leading website: "I am not hurt. I know he called me a liar and also said pehle hassa ke dikha logon ko. I am worried about Kapil's health. Just look at the time of the tweets. How can I be hurt? I just pray to god that Kapil stays healthy and takes care of himself."
Talking about the mid-air brawl that happened last year, Sunil also said: "If you have noticed I have not done a regular show since last year. I have either hosted award functions, reality show finale or done live events. I did not take up any regular show. I am not denying that Kapil didn't call me to return to TKSS. He even came home once and sent his people to discuss work. But I was not mentally prepared to return after the mid-air fight. I just want to clarify I am not targeting Kapil."
Will Sunil work with Kapil again? "I don't want to live in imagination. This is a very hypothetical question and actually, I don't have an answer. I think it's not the right time to answer this. I have work right now and I want to concentrate on it. We both are mature people and have even met after the incident last year. There are many things that happened between the two of us since then, and I don't think I should talk about it. I don't want to do mudslinging. I worked with him on two great shows though it was for a temporary period. I will always be thankful," concluded Sunil.