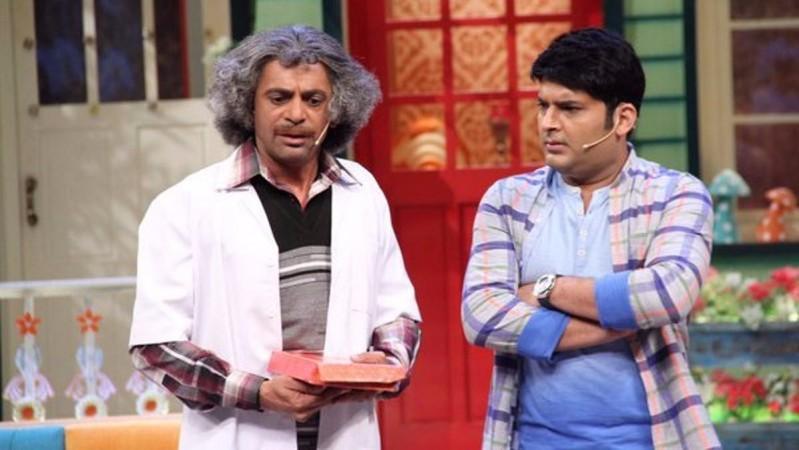 After their infamous mid-air brawl last year, Kapil Sharma and Sunil Grover have once again locked horns. They engaged in a war of words over the former's new show Family Time With Kapil Sharma.
It all started when Sunil Grover replied to a fan's query on Twitter. The fan requested Sunil to come back to the Kapil Sharma show as they are missing the two comedians performing on stage together.
To which Sunil replied in Hindi, "Like you, other people are also asking me the same question. But I didn't receive any call for this show. I still have the same phone number. I was waiting but now I have signed another project. Thanks to your good wishes, I am now associated with a good project. Soon you will see me performing on the screen."
Bhai aap jaise kuch aur log bhi mujhse same poochte hain. Lekin mujhe iss show ke liye KOI call nahin aaya. Mera phone number bhi same hai.
Intezar kar Ke ab maine kuch aur sign kar liya kal. Aap logon ki duaon se ek achhe project Ke sath juda hoon. Jaldi aapke samne Aata hoon? https://t.co/t6n04SxtMK

— Sunil Grover (@WhoSunilGrover) March 16, 2018
His tweet reached Kapil and infuriated the comedian. He decided to declare an open war on Twitter and gave a befitting reply to Sunil. He said he had called Sunil 100 times and even went to his house twice to meet him but they never had a chance to interact with each other. He told Sunil not to spread rumors that he was not called to be a part of the show.
Paji I called u more then 100 times n came to ur house to meet u twice .. every time u were out for some show n all .. pls don't spread rumors that I didn't call u.

— KAPIL (@KapilSharmaK9) March 17, 2018
I know the people who r working behind u .. trust me .. u will get nothing .. take care

— KAPIL (@KapilSharmaK9) March 17, 2018
Worried fans started asking Kapil about his issue with Sunil. To which Kapil replied how he had approached Sunil multiple times but in vain. He even replied to a fan saying that he doesn't want Sunil's support and won't let anyone take advantage of his name anymore and belittle him.
Yes I love him.. but sometimes it hurts u a lot ..when u do a lot of hard work for somebody n he just want fame on ur name .. abhi qyun bola ? Ek saal ke baad ?

— KAPIL (@KapilSharmaK9) March 17, 2018
Ab saari baat Twitter pe hogi.. nothing personal .. bahut ho gya

— KAPIL (@KapilSharmaK9) March 17, 2018
Yes .. he is lying .. I called him 100 times n sent my people to his home .. even I went to his home to meet him for the show .. but now I will not let anybody take any advantage on my name .. enough is enough

— KAPIL (@KapilSharmaK9) March 17, 2018
Don't want his support .. but at least he should not spread rumors.. m tired of all this.

— KAPIL (@KapilSharmaK9) March 17, 2018
Hahaha.. nahi mere bhai .. kabhi kabhi bolna hi padta hai.. nahi to log bahut advantage le jaate hain..

— KAPIL (@KapilSharmaK9) March 17, 2018
After getting bombarded with a series of hate comments, Sunil took to Twitter to clarify his stance and said he was actually referring to Kapil Sharma's new show.
"Now people know the answer why I didn't join the show earlier. Main iss show ki baat kar raha hoon, aap purana kissa ro rahe hain. Again I will say I have not been offered for this show. Good luck for the new show. Wishes and love," Sunil said in a statement on Twitter.
To which Kapil replied,
The thing is u r smarter then me. u know when n how to play .. n I am a dumb emotional.

— KAPIL (@KapilSharmaK9) March 18, 2018
It looks like the fight between Kapil Sharma and Sunil Grover is further going to intensify.