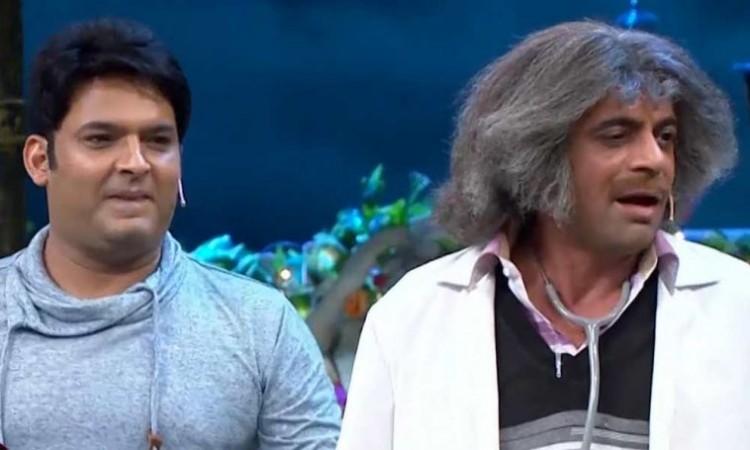 Comedians Kapil Sharma and Sunil Grover once again engaged in a dirty fight and publicly called out one another on Sunday (March 18) afternoon on Twitter.
Sunil Grover, who played the character of Dr. Mashoor Gulati in The Kapil Sharma Show, said that he didn't receive any call from Kapil Sharma to be a part of his new show Family Time with Kapil Sharma while replying to a fan on Twitter.
To which an angry Kapil Sharma replied saying that he had called him several times but he was unavailable for a discussion. He even accused Grover for spreading rumors against him and using his name to his advantage.
The public mudslinging soon turned into an ugly battle between Kapil Sharma and Sunil Grover fans who started trolling them for taking their personal dispute on social media.
Some fans attacked Kapil saying that he was probably drunk when he was replying while others praised Sunil for taking a stand for himself.
Abe bhikhari .... Uss flop firangi ne daaru pee ke tweets kiye hai .... Isliye Sunil sir usko indirectly bol rhe hai ki 2 kidney aur 1 hi liver hota hai .... While Salman Khan or Shah Rukh Khan or others ne sunil sir ko kuch nhi bola to voh dusro ko advice kyu denge??? Nonsense!!

— Dinesh Sundesha (@DineshSundesha7) March 18, 2018
D more u open the more we respect u sir.. u deserve to be somewhr els n fr sure u wil be d only n d best comedian everrr.lots of love paji

— Prashanti (@Prashantiqte) March 18, 2018
But a large section of Twitter users chose to stand besides Kapil Sharma in his battle with his former colleague. They slammed Sunil Grover for unnecessarily digging up old graves as Kapil has already apologized to him multiple times after their infamous mid-air brawl last year.
Shame on you Sunil. Enough is Enough. How much you will make Kapil suffer for one mistake. After all we are all human. Tumne to haddh kar di hai. Learn to forgive and move on. Kapil has been quite and suffering and you have taken all advantage of it. Move On and let that man live

— Neet (@Neet_kaurr) March 18, 2018
I'm So Proud of U My Kappu?Aaj Aapne Iss Moron Sunil Kamine Ko Sahi Jawab Diya. It was About Time that U Spoke. Apke Silent Rahne Ke Karan Is Sunil Ne & PPL Behind him have Taken Too Much Advantage Of U,Ye Sunil Phir MAD IN INDIA2 (SUPER FLOP) Show Karega #WeStandWithKapilSharma pic.twitter.com/acyyt6xuwT

— CUTEST KAPILIAN?? (@FirangiBlockBst) March 18, 2018
However, there were people who wanted both the comedians to end their fight and start working together because they miss them performing on the screen.
Sir please solve all the no one is smaller than other to feel sorry.we all are waiting to see you both together.

— Rajat malik (@rajatma137) March 18, 2018
Everyone make fun of both try to shortout in personal not on #sm. It's better for both

— Priya Parkash Varrier FC ?? (@officialPPV_FC) March 18, 2018
Sir plz call sunil sir for this show we want to see two big comedian in one screen

— Dev adhikari (@Devadhi66940539) March 18, 2018
We wonder for how long Kapil and Sunil will keep fighting with one another, which will likely have an adverse effect on their respective careers.