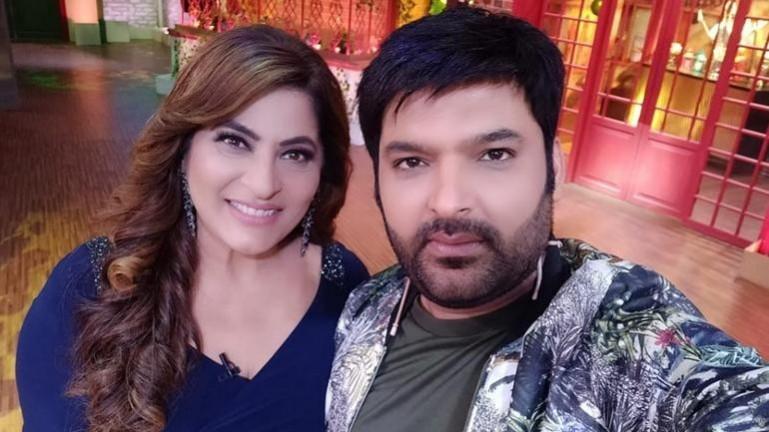 Navjot Singh Sidhu's ouster from The Kapil Sharma Show is no more a controversial topic in the industry thanks to the scriptwriters of the comedy show who have been incorporating the former cricketer's name in most of the show's gimmicks. And nowadays, almost in every episode, Kapil Sharma, who is very close to Sidhu, can also be seen taking subtle digs at or rather intimidating the current co-host Archana Puran Singh of ouster in the most sarcastic way ever.
The Saturday's episode of The Kapil Sharma Show began with a gig where Kapil Sharma was seen arguing with his fellow actor who played the role of a newspaper delivery boy. As the gig went by, Kapil read out a breaking news from a newspaper which says, "Mr. Navjot Singh Sidhu will return soon" while giving a suspicious look to Archana who was seated on the main chair.
While Archana laughed out loud at the dig taken at her, she soon started waving her hands in a big 'no' expressing her willingness to stay on the show for a longer period of time as the audience went up with a loud cheer. However, Kapil quickly clarified that he was not talking about her getting fired but Sidhu, who will return to his home soon after finishing the ongoing election campaign. To which Archana replied with a calm and composed thank you.
The Kapil Sharma Show has been experiencing ups and downs in its TRP rating ever since Sidhu was asked to leave the show after facing massive outrage on social media over his comment on the Pulwama attack. But, after a long silence of weeks, Kapil finally opened up about Sidhu's return to The Kapil Sharma Show as the co-host at the HT Most Stylish Awards 2019.
"Sidhu paaji is currently busy with the upcoming Lok Sabha elections. I had spoken to him regarding his return to the show. So I feel that till this elections campaigning is going on, I don't there's any chance for him to come back on the show. But after the elections, Sidhu's return is inevitable," Kapil had said while interacting with the media.
Going by the current happenings, it looks like the makers of the show are really trying hard to bury the controversy and bring back Sidhu on The Kapil Sharma Show as soon as possible.