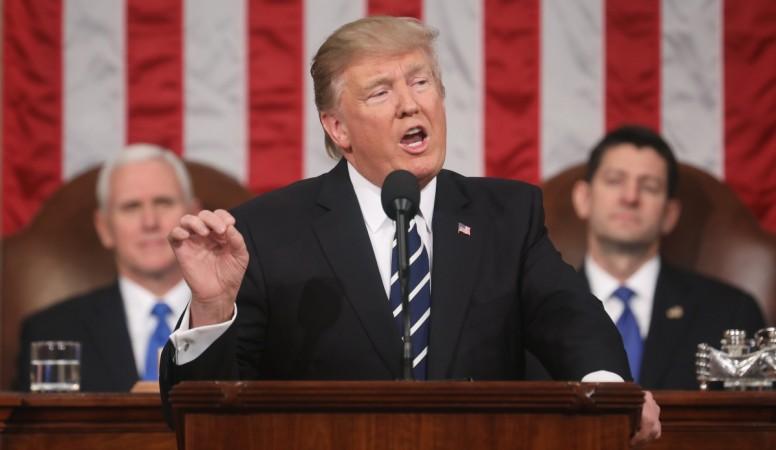 US President Donald Trump has finally spoken up on the shooting incident in Kansas, which saw a man shooting at two Indian engineers and another American who jumped to their rescue. One of the engineers, Srinivas Kuchibhotla, died in the shooting and was cremated on Tuesday.
Also read: Srinivas Kuchibhotla shooting: 5 things you need to know about Ian Grillot, a true American hero
'United in condemning hate and evil'
Addressing a joint session of the US Congress in the House of Representatives on Tuesday evening, local time, Trump said about the shooting and attacks on Jewish people and properties in the US: "We are a country that stands united in condemning hate and evil in all of its very ugly forms."
This was the first time Trump spoke on the incident, having earlier been urged by his former presidential rival Hillary Clinton to do so. It may be mentioned here that the White House had said a day ago that "early reports out of Kansas are equally disturbing."
'Racially motivated hatred'
The White House on Tuesday took it a step farther, actually saying that the incident was the result of "racially motivated hatred." White House Principal Deputy Press Secretary Sarah Sander said at a press gaggle: "I wanted to address the tragic shooting in Kansas. The President is keeping the family of the victim, who was senselessly killed, in his thoughts, and we're praying for the full and speedy recovery of those who were wounded."
She added: "As more facts come to light, and it begins to look like this was an act of racially-motivated hatred, we want to reiterate that the President condemns these and any other racially or religiously-motivated attacks in the strongest terms. They have no place in our country, and we will continue to make that clear."