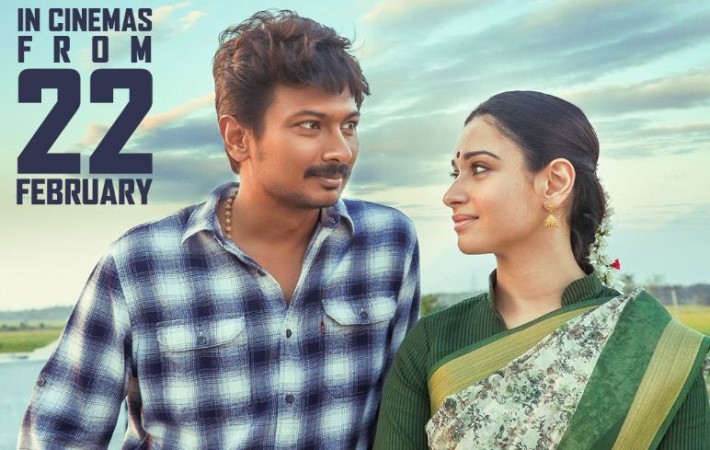 Udhayanidhi Stalin has slowly moved away from usual commercial potboilers and taking up movies with strong content. Call it his long-term political vision or his urge to do challenging roles, he has grown as an actor since his debut film, Oru Kal Oru Kannadi in 2012.
Now, the actor is returning with Kanne Kalaimaane, a movie written and directed by National Award winning filmmaker, Seenu Ramasamy. Tamannaah Bhatia has played the female lead in the flick, which has Bobby Simha, VTV Ganesh, Anandraj, Ramesh Khanna, Senthil, Goundamani and host of other actors.
The movie has the music of Yuvan Shankar Raja, Jalandhar Vasan's cinematography and Kasi Vishwanathan's editing.
Story:
The story of the revolves around Kamala Kannan (Udhayanidhi Stalin)m who holds a degree in agriculture and into organic farming. His character is inspired from a farmer based in Chozhavandhan.
Kamala Kannan is a lovable son, who never crosses the line drawn by his father (Poo Ram) and grandmother (Vadikukkarasi). He is helpful to others and at times takes loan from banks for the benefit of others. But this puts him trouble after Bharathi (Tamannaah Bhatia), the manager in co-operative bank, assumes him to be a wilful defaulter. As she realises about his other side, they fall in love. But she belongs to a different community and what follows next should be seen on screen
Analysis:
The movie touches upon series issues that include NEET exams and farmer loans. The story move's at snail's speed and fails to hold the viewers' attention. Although there are occasional brilliance, it fails leave good impact on the viewers. Udhayanidhi's performance gets a thumbs-up and Tamannah's de-glamarous role is a welcome change. Check out the audience's response to the film:
Reviews:
Kanne Kalaimaane has generated decent hype around it through its trailer. Will the Tamil movie, which is hitting the screens on Friday, 22 February, live up to the expectations? Check out in the audience's words below:
Rajasekar: #KanneKalaimaane - How Tamil missed giving powerful roles to a seasoned performer like #Vadivukkarasi. Thank you @seenuramasamy for giving such a solid role to the veteran actress. The climax conversation between @Udhaystalin and #Vadivukkarasi is heart touching!
#KanneKalaimaane - @tamannaahspeaks sported glamorous costumes in many films but she looked most gorgeous in the simple cotton saree. It's time for filmmakers to use the 'performer' inside her!
#KanneKalaimaane - @thisisysr 's #VaaVellaiRasaathi is the heartline of the film, soul-stirring track
Sidhu: #KanneKalaimaane: Fantastic feel-good drama. Travels on a soft and subtle feel throughout and elevates itself beautifully in the last 30 minutes. Career-best acts from @Udhaystalin and @tamannaahspeaks, very satisfying!
#KanneKalaimaane - 3.25/5, Career best film for @Udhaystalin and @tamannaahspeaks. The last twenty minutes is the film's biggest strength. Another superbly made feel-good film from @seenuramasamy.
Prashanth Rangaswamy: Actress @tamannaahspeaks - best portrayal ever in her Career. She is maturing as an actress very very fast. Should salute @seenuramasamy sir for portraying Women in such wonderful manner !! #KanneKalaimaane .
#KanneKalaimaane interval - Pleasant is the word. Easily the best movie in @Udhaystalin s career. @tamannaahspeaks - Such matured performance. It feels like visiting or being in a village so far.
Ramesh Bala: #KanneKalaimaane 1st Half: A Pleasant ride so far..
Both @Udhaystalin and @tamannaahspeaks have done well..
Very subtle performance from both..
Main plot gets serious around the interval stage..
Looking forward to the 2nd half..
#KanneKalaimaane [3.25/5] : A Beautiful story.. A realistic village movie about innocent people and their lifestyle..
@Udhaystalin has done well.. Very subtle..
@tamannaahspeaks is excellent.. Can be termed her best role..
Dir @seenuramasamy has made a feel good movie..
bharathnt: An emotional fare. Explores human relationships. Though a family drama, it speaks about woes of agrarians, neet issue and need for organic farming. @Udhaystalin excels with his subtle performance & @tamannaahspeaks as agri bank officer excels. Nowhere preachy. #KanneKalaimaane
Haricharan Pudipeddi: #KanneKalaimaane left me pleasantly surprised. A film about old-school versus modern-day ideologies that takes a less explored path and clicks.
One of those rare films that really understands feminism and treats it commendably. @tamannaahspeaks is undoubtedly terrific.
Review Ram: KanneKalaimaane - 2.25/ 5.
There's no life in this family drama. The soul is completely missing & hence it falls as a no-impact flick. @tamannaahspeaks is miscast. @Udhaystalin has improved in acting. @thisisysr's music is a huge letdown.
Disappointment from @seenuramasamy.