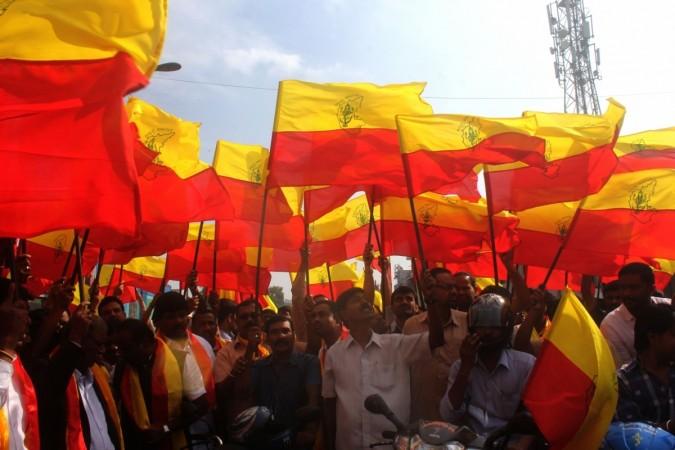 Celebrating the 64th Kannada Rajyotsava – marking the day all Kannada language-speaking regions of South India were merged to form Karnataka – the state will give away awards to 64 achievers from across fields on Friday, November 1.
The Rajyotsava award – second-highest civilian honour in the state – will be given to personalities from the fields of theatre, music, folk, sports, literature, Yakshagaana, film, small screen, medical, drawing, agriculture, law, education, journalism, social service and environment.
Chief Minister BS Yediyurappa and Culture Minister C T Ravi will give away the awards.
Apart from the awards, preparations have been made for major celebrations across the state. The official state flag is hoisted, followed by an address by the CM and the Governor. Other community festivals and concerts are also held, along with the chanting of Jaya Bharatha Jananiya Tanujate, which is the Kannada anthem. Follow the Live Blog of ibtimes.co.in to get all latest updates related to Kannada Rajyotsava.
Live Updates
2019-11-0115:45 (IST)
Bengaluru city Mayor Gowtham Kumar hoisted Karnataka Flag in BBMP office
2019-11-0112:55 (IST)
President Kovind wishes Karnataka
"On this day of the Karnataka Rajyotsavam, I congratulate the people of Karnataka. In the years to come, the state of Karnataka and our country will rise even higher," the President wrote on Twitter.
2019-11-0112:51 (IST)
Karnataka CM Yediyurappa hoists Karnataka and National flag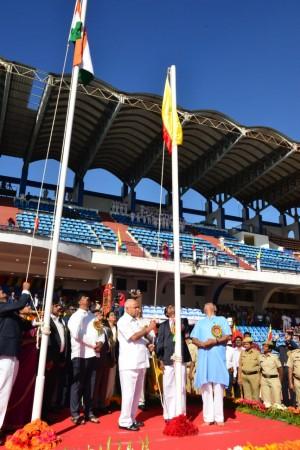 2019-11-0112:48 (IST)
Rahul Gandhi extends his greetings
"My best wishes to the people of Madhya Pradesh, Chhattisgarh, Punjab and Haryana on their state formation day. The support and progress of every state has helped for India. Let us take a pledge to make our own states prosperous. My best wishes to the people of Karnataka, Kerala and Puducherry on the State Formation day. The idea of India celebrates our collective strength in diversity. On this occasion, I honour the unsung heroes whose struggles established the Indian States and cemented our common bonds," he wrote on Facebook.
2019-11-0112:00 (IST)
Why is Karnataka Rajyotsava celebrated?
Every year, November 1 is celebrated as Karnataka Rajyotsava also known as Kannada Day or Karnataka Formation Day when the residents of the state celebrate its formation on November 1, 1956. The state was previously called Mysore and was renamed as Karnataka on 1 November 1973.
2019-11-0111:46 (IST)
Amit Shah greets Karnataka
"The people of Karnataka have played a unique role in the development and progress of the nation. I wish the state more prosperity in the coming years," Amit Shah wrote on Twitter.
2019-11-0110:52 (IST)
PM Modi wishes Karnataka
Prime Minister Narendra Modi took to Twitter to wish Karnataka on its foundation day. "Karnataka Rajyotsava is a day to celebrate the outstanding contribution of Karnataka towards India's progress. The state's natural beauty and people's warm-hearted nature are well known. Praying for Karnataka's development in the times to come," he wrote.