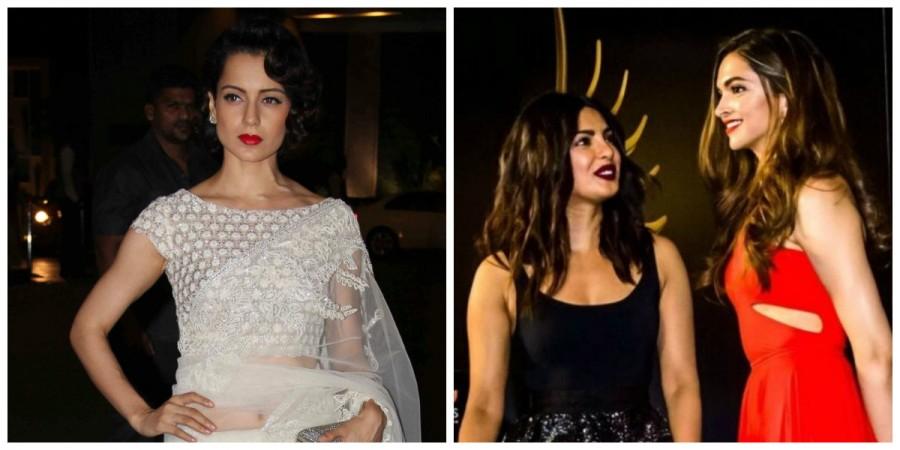 Kangana Ranaut, who is known for her outspoken nature, apparently took a dig at Deepika Padukone and Priyanka Chopra for heading to Hollywood.
Kangana Ranaut almost became an adult movie star before she landed Gangster
While fans and several industry personalities have been lauding Deepika and Priyanka for making a mark in the West, Kangana feels that it is "stupid" to go to Hollywood at this stage.
"It would be stupid for anyone to make the move to the West now. Their theatre business is crashing because of the influx of digital media. Asia, on the other hand, is where Hollywood was 15 years ago. It is a lucrative time for entertainment here. These are baits that I won't fall prey to," Kangana told Mid-Day.
While Deepika recently featured alongside Vin Diesel in XXX: The Return of Xander Cage, PeeCee will be seen playing an antagonist in Baywatch.
The Rangoon actress continued her apparent strike at the two leading ladies saying that she had no aspirations to step into Hollywood.
"If an American film is doing Rs100 crore business, and not all our films are able to, we may find adequate screens for home-bred films 10 years down the line. I am all for world cinema, but it needs to be a film that brings employment and money into our country. I don't wish to offer myself on a platter to another industry," Kangana added.
It will be interesting to see what Deepika and Priyanka have to say about Kangana's remark. Kangana will next be seen in Vishal Bhardwaj's Rangoon that also features Shahid Kapoor and Saif Ali Khan. Set in the backdrop of World War 2, Rangoon will present her as a yesteryears actress.