The first look of Kamal Haasan's next movie "Papanasam" has been released. While the poster of the movie appeared without much hype, it has managed to create good buzz on social media websites.
Click here to See the Photos from "Masss" Press Meet
The poster, which shows Kamal Haasan and Gauthami with two kids riding on a TVS XL, has been released directly on the internet. The first look is simple but manages to clearly convey that it is a family-oriented Tamil movie.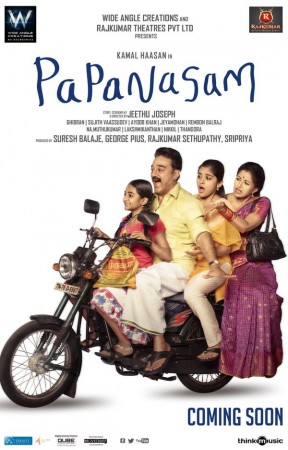 The first look of "Papanasam" has impressed Kamal Haasan fans, who are spreading positive words on social media sites. Fan pages on Facebook and Twitter are leaving no stone unturned to make the poster the talk of the town.
It is quite interesting to note that the trailer was released before the first look. The video clip of "Papanasam" was released on 30 April to coincide with the international premiere of Kamal Haasan's recent movie "Uttama Villain".
"Papanasam" stars Kamal Haasan and Gauthami in the lead roles. Kalabhavan Mani, Asha Sharath, Niveda Thomas, Anant Mahadevan, Baby Esther, Roshan Basheer and Delhi Ganesh are in the cast. The Tamil movie has Ghibran's music, Sujith Vaassudev's cinematography and Ayoob Khan's editing.
The film is directed by Jeethu Joseph and produced by Suresh Balaje, Rajkumar Sethupathi, George Pius and Sripriya Rajkumar.
"Papanasam" is the remake of blockbuster Malayalam movie "Drishyam". The film has already been remade in Telugu and Kannada and both the versions became superhits. Presently, the film is also being made in Bollywood with Ajay Devgn in the lead role.
The story is about how normal lives of a happy family is affected by an unexpected situation and the entire family is under the watch of police department over a murder. The challenges that they face and what happens to them in the end is what the film holds for viewers.
The movie will hit screens in the coming months.