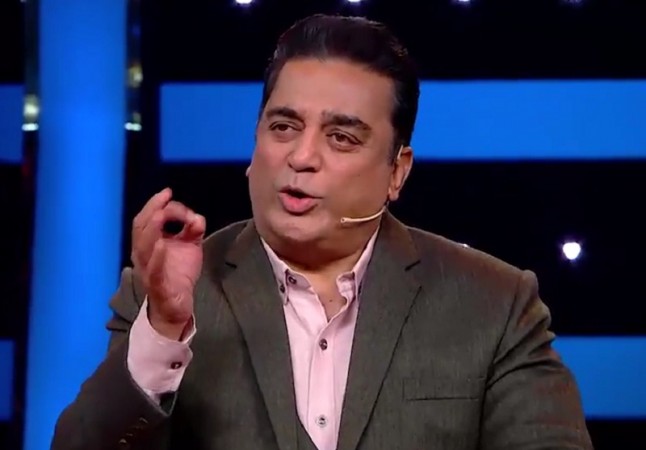 A Muslim youth upset with Tamil superstar Kamal Haasan's remark on Hindu terror has announced a reward of Rs 25,000 for whoever manages to blacken the face of the Vishwaroopam star.
Mohd Aamir Rashid, the president of Muslim Youths Association in Aligarh, has called Kamal Haasan an "anti-national".
He feels the actor's recent comment on Hindus was an attempt to create communal rift. People like him should have their tongue cut off and silenced, he has been quoted by the Times of India as saying.
Mohd Aamir Rashid added that if Hindus turn "extremists" then no other community in the country would be safe.
Kamal Haasan is trying to gain mileage for his political entry with such "provocative" comments, he said.
The Muslim youth also announced a reward to anyone who blackens the Ulaganayagan's face, according to TOI.
The "reward" comes in reaction to Kamal Haasan's column in Tamil magazine Ananda Vikatan, in which he had said since Hindu groups' old conspiracies had begun to fail, they are indulging in violence. But this extremism is not a mark of success or growth, he had written.
"Earlier such Hindu right-wingers, without indulging in violence against those belonging to other religions, made the latter indulge in violence through their arguments and counter arguments. Extremism is in no way a (mark of) success or growth for those who call themselves Hindus," Kamal Haasan wrote in his column.
His comments have not gone down well with the BJP, the RSS and Hindu activist groups, who have slammed him for hurting religious sentiments.
An activist has also filed a defamation case against the actor and a police case was registered under IPC Sections 500, 511, 298 295(a) and 505 (c).
Pandit Ashok Sharma, national vice-president of the Hindu Mahasabha, went a step ahead and said Kamal Haasan should be hanged to death for his provocative comments on Hindus.
"Kamal Haasan and the likes of him should either be shot dead or hanged so that they learn a lesson. Any person who uses abusive language for people belonging to Hindu faith does not have the right to live on this holy land and they should get death in return of their remarks," TOI quoted Ashok as saying.