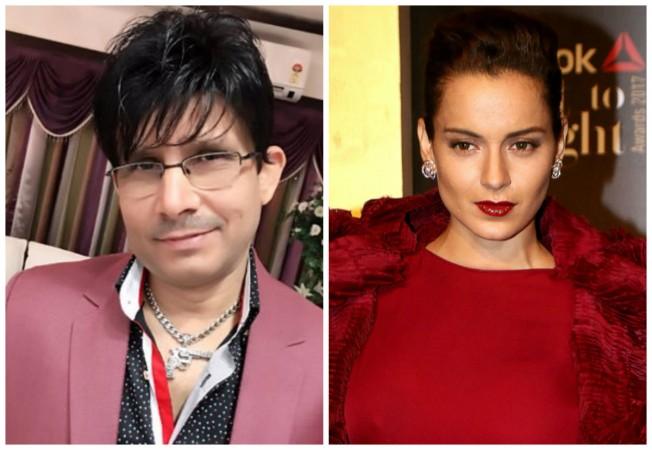 Self-proclaimed critic, Kamaal R Khan aka KRK has expressed fear that Kangana Ranaut used black magic on him.
The controversial personality on October 17 "collapsed" at his Dubai residence, following which he was hospitalised and remained "unconscious", as stated by KRK Box Office. The tweet was also retweeted by KRK himself.
Later, in a number of tweets, he spoke about his health condition and stated that he has "big doubt on Kangana Ranaut" being responsible for his bad health.
"Basically i am not a religious person therefore I don't believe in Jaadu-Tona at all. But finally I do accept that someone is doing black magic on me. That person can be an outsider or a family member, who is trying to destroy me. It makes me fall sick every 2nd day and sometimes it sucks my all energy to make me feel like, I will die within few hours. I do have a headache 24"7! No medicine is working because it is all happening by the power of the black magic. I have stopped eating all type of food. I am just eating fruits and drinking vegetable soup. But I will still not go to any Maulana or Baba or any Sadhu-Sant for treatment. I will keep reading few DUWAS to fight with it. Thanks to all, who are praying for me. KRK," he stated on Twitter first.
In his second tweet, KRK said that Kangana might have done black magic on him as revenge for making a video in regard to her controversy with Hrithik Roshan.
"I am not 100% sure but still I have big doubt on #KangnaRanaut! I made video about her controversy with #Hrithik to reveal the truth. So she might have done black magic on me for her revenge. Everyone knows that she strongly believes in such type of things," he said.
In his next tweet, he even accused his parents of using black magic on him during his childhood.
"When I was young, my parents tried to do magic on me, so that I will listen to them and won't think about running away from the village. But that didn't work on me and one day I ran away to Mumbai. But finally someone is succeeded to do black magic on me now," she tweeted.
Kangana was earlier accused of practising black magic by Shekhar Suman's son, Adhyayan Suman, who was her boyfriend in the past.