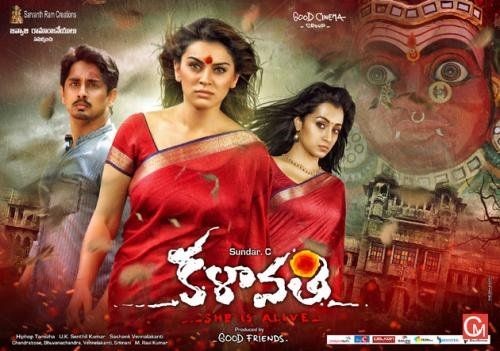 Director Sundar C's Telugu movie "Kalavathi", which was released in theatres on 29 January, has received mixed verdict and average ratings from Telugu film critics.
"Kalavathi" is a horror movie with a high comic quotient and Sundar C has written the story for it. Murali (Siddharth) returns to his native with his fiancée Anitha (Trisha) after hearing about his father's ill health. But they experience strange happenings in the house. Anita's bother (Sundar C) finds out that the house is haunted by the ghost of Murali's sister Kalavathi (Hansika). What happens next forms the crux of the story.
The critics say the movie lacks novelty and seems to have highly borrowed from films such as "Chandrakala". The director has tried to engage the audience with some comic and thrilling moments. The first half of the movie has nothing to hold the viewers' attention, but the second half, which is a big asset of the film, entertains film-goers.
Siddharth, Trisha Krishnan, Hansika Motwani and Sundar C have delivered brilliant performances, which are big attractions. "Kalavathi" has good production values, and its background score and camera work are the highlights on the technical front. The movie has been rated 2.75 out of 5 stars. Here are some critics' verdicts and ratings for the film. This is the "Kalavathi" movie review roundup:
Kalavathi is strictly for horror-film lovers , and underwhelms as a sequel scoring more on stereotypes and less on novelty.
A horror-comedy with its share of light-veined moments, a good flashback, and a fairly engaging second half.
The makers of Kalavathi have stayed true to the genre and did not experiment much. They have played it safe and added enough elements which will entertain everyone. The film lacks novelty and also does not have any spine chilling moments. However, a decent second half filled with enough mas elements makes things work. Finally, if you manage to sit through the very ordinary first half, you can easily enjoy this decent suspense thriller.
Sundar is known for making commercial potboilers and he puts his experience to good use by signing up lot of frontline actors. His ploy nearly worked as the actors did save the movie from tripping. Kalavathi could have been a better film if it had better technical values and a proper script. It may still work because of Sundar's 'play it safe' philosophy.
Director Sunder C has made "Chandrakala" again with a little difference. The palatial bungalow, the village, comedy actors, three heroines, and some flashback episode in the second half... all these were in "Chandrakala" and now in the sequel "Kalavathi' he has repeated the same. Only difference is that he seems to have made the sequel with no seriousness and carelessly.