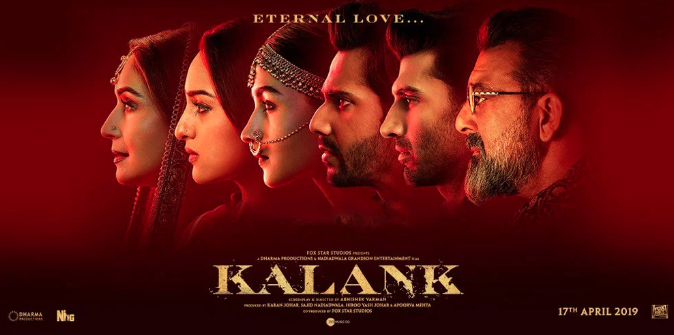 Multi-starrer Kalank has been one of the most awaited films of this year. Co-produced by Karan Johar, the period drama features Alia Bhatt, Varun Dhawan, Sanjay Dutt, Madhuri Dixit, Aditya Roy Kapur and Sonakshi Sinha in key roles.
Kalank is a high budget movie with a stellar star cast. The trailer of the film gave a glimpse of the grandeur of the film, and fans are eagerly waiting to watch the movie. However, many of them are sceptical about the film, and are waiting for reviews from critics to know if Kalank is worth watching or not.
As the film released worldwide on April 17, a lot is being said about Kalank on social media. Varun's character is one of the main attractions in the film. His robust look in the movie attracted a lot of eyeballs.
On the other side, Alia's character has a lot of mystery associated with it. The trailer showed her character romancing Zafar, played by Varun, but again she was seen marrying Aditya's character.
Another important aspect of Kalank is the reunion of Sanjay Dutt and Madhuri Dixit in the film. Nonetheless, Kalank received mixed response from the critics. While some of the critics applauded the film, some others found it high on visuals but poor in terms of content.
Read critics' reviews and rating of Kalank:
The Times Of India: "At 2 hours and 48 minutes, with a tighter edit the story could have wrapped up much sooner though. Kalank is a true labour of love that tells you a story laced with beautiful moments that will tug at your heartstrings." Rating: 3.5 stars out of 5.
NDTV: "Kalank has unmistakable contemporary resonance because it celebrates the transformative power of love in the time of rampant hatred. The film is worth a viewing not only for what it says, but also for how it packages its pacifist statement." Rating: 3 stars out of 5.
Hindustan Times: The visuals linger. A necklace fastened around Roop's neck with velvet drawstrings; a fake bird in a theatre performance spectacularly getting its wing cut off; a harp the size of a house; and the first time Zafar meets Roop. During a Ram-Leela performance at Dussehra, he shows up with wet, blue-skinned Rams rising from the water behind, and when the lovers touch, burning Ravana heads cast a glow on their encounter. Kalank often feels too much, and I only wish it made me do the same. It is a stunningly plated meal, but needed salt. Rating: 2.5 stars out of 5
The Indian Express: There is enough and more here, plot-wise, for a bunch of films. But finally, despite Dhawan and Bhatt's histrionics (the former looks as if he could belong to that era, and Bhatt stays watchable), and Dixit's wondrous dancing abilities (nobody can touch her when it comes to the grace she displays when she is on the floor), Kalank doesn't really lift off the screen. The whole feels like a giant set, stately and ponderous and minus impact; the characters all costumed and perfumed and largely life-less, sparking only in bits and pieces. As a character says, two-thirds into the film, 'yeh kissa yahin nipat jaata'. Rating: 1.5 stars out of 5
Koimoi: All said and done, Kalank is surely not from those "kuch daag" which are good. It's a skid mark on every actor's filmography associated with the movie. Stuns visually & that's about it! Me to Karan Johar after this: Peeche dekho, peeche toh dekho (Baahubali). Rating: 1 star out of 5
Words for #Kalank #KalankReview

Kalank is a Perfect Example that High BUDGET, Multi Starcast, Massive Sets and Wide Release will nvr ensure Success, if your FILM LACK SOUL
Kalank = GOLDEN OPPORTUNITY WASTED

D*I*S*S*A*P*O*I*N*T*I*N*G

1.5*/5 #VarunDhawan #AliaBhatt

— Rohit Jaiswal (@rohitjswl01) April 17, 2019